Description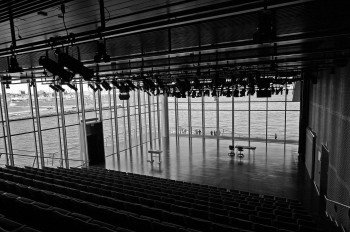 History
The Institute of contemporary Art in Boston is a museum for contemporary art. The museum was opened in 1936 for the first time and had since moved 13 times before there was finally a 5,800m² (7,000yd²) large building built exclusively for the gallery in 2006. The museum is nowadays directly located at the sea in Boston. In order to intertwine the edifice with its surroundings, the façade of the building was entirely clothed in glass, allowing a wonderful view on the sea.
The Theatres
The museum also hosts two theatres with a spectacular range of performances. One must point out that either theatre lies on the exterior surface of the museum, allowing a view on the harbour. It is an open air theatre with its seats being protected by the upper floors of the museum.
Special exhibitions
The museum has already shown many temporary exhibitions in its long history, which had drawn the world's attention. One exhibition was held here abourt Picasso's artworks, including his world famous painting "Guernica". Other exhibition shows portrayed the work of Andy Warhol or even a study of Edward Munch's "The Scream".
How to get there
By public transport
The museum is well reachable by Boston public transport. Take the red line of the MBTA (Massachusetts Bay Transportation Authority) and get off at "South Station". Change to the silver line and get off at either "World Trade Center" or "Courthouse Station". The museum is sited between the two stations.
By car
You can also get to the museum by car. Be aware of the fact that there is only a number of limited car parks available and partially only for a certain period of time.
By ferry
Another way to get to the museum is by ferry. Make sure you get off at the station "Seaport World Trade Center". From here it's only a few minutes to walk. It's best to book the ferry in advance.