Description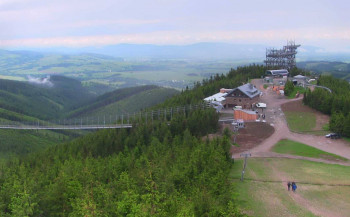 The world's longest suspension bridge was opened in Dolní Morava in the Czech Republic on May 13, 2022. The "Sky Bridge 721" is - as mentioned in its name - a total of 721 meters long and thus clearly surpasses the previous record holder from Switzerland.
The Czech suspension bridge is located at 1100 meters above sea level in the middle of the skiing and hiking area of Dolni Morava, which is located near the Czech-Polish border. Pedestrians move along a 1.2-meter-wide path, which may well sway depending on the weather. At its lowest point, the structure hangs 95 meters above the forest floor. The structure is held by six main cables and 60 wind cables of various diameters. Construction work on the bridge took two years.
The bridge can only be walked on in a one-way system. The entrance is located at the top station of the Sneznik chairlift, where the "Sky Walk" tree top walk is also located. The cable car ride takes about 10 minutes (plan for extra costs!). After leaving the bridge, a forest path and nature trail about 2 kilometers long leads back to the parking lot. The trail is called "Bridge of Time" and also includes augmented reality game elements that can be accessed with your own smartphone.
All in all, you should plan around 1.5 hours for a visit to the bridge, including the cable car ride there and the nature trail back. Those who are afraid of heights should better avoid the bridge. Strollers, wheelchairs and dogs are prohibited on the world record bridge anyway. Children must be accompanied by an adult on the bridge. From this webcam you have a great view of the record bridge.
How to get there
Dolni Morava is located on the Czech-Polish border in the east of the country. It takes about 3 hours to get there from the capital Prague. Parking is available in the whole town sufficiently and free of charge (hotel parking excluded!).
Videos
Sky Bridge 721 - nejdelší visutý most... | 00:18
Visutý most Sky Bridge 721 a stezka v...Video z dronu 4k.Stezka v oblacích a visutý most. Větrné...
Sky Bridge 721 - längste Hängebrücke der...Die längste Hängebrücke der Welt! Eröffnung der Sky...
Nejdelší visutý most na světě se otevře už...SKY BRIDGE 721 - nejdelší visutý most na světěPřipravte...