Description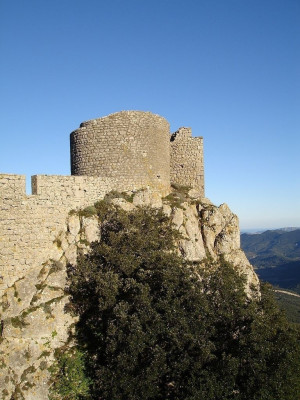 The castle of Peyrepertuse was first mentioned in 1070, but was supposedly already inhabited by the Romans, so about 1 century before Christ. The fortress, with 7000m² the largest Cathar fortress in France, was considered difficult to capture because it was built on a rocky outcrop about 800m above sea level. Moreover, due to the material used, the castle blends almost perfectly into the landscape and can therefore be mistaken for part of the rock from afar.
It is often referred to as one of the five sons of Carcassonne because of its location, although in terms of size it is in no way inferior to Carcassonne. The fortress can be divided into the lower, older part and the upper part "San Jordi", built in 1242. The old part, which was built around the 11th century, also houses the church of Sainte-Marie, of which only the foundation walls can still be seen today.
A highlight in the fortress is the seemingly never-ending staircase leading to the keep, which was built in honour of Louis the Saint. From the ruins you have a breathtaking panoramic view over the Pyrenees and the Mediterranean Sea.
Since 1908, the fortress is seen as a so-called Monument Historique and is therefore listed.
How to get there
By car:
There is a bus park near the fortress so if you are travelling in larger groups this is not a problem. Otherwise you can park your car in the village of Duilhac, from there you can climb the south side of the mountain and reach the castle after about 20 minutes. Even if the climb is strenuous and sturdy shoes are advantageous, the effort is worth it.
If you are then in the vicinity, you can also visit the so-called Verdouble Gorge, which is only one kilometer away.
Video
Les imprenables forteresses cathares... | 03:32