Route description
Iceland, the land of volcanoes, is best explored on Askja Hiking Trail. The challenging trail leads you through volcanic regions in central/ north-east Iceland, and is also known as Öskjuvegur. As the path leads up Dyngjufjöll Mountain at over 1,300 metres above sea level, you need to beware of blizzards and storms even in summer.
 
Day 1: From Herðubreiðarlindir to the hut in Bræðrafell
17 to 19km; 5 to 6 hours
Day 2: From Bræðrafell to Dreki hut
18 to 20km; 6 to 7 hours
Day 3: From Dreki hut via Askja to the hut in Dyngjufell
19 to 20km; 8 to 10 hours
Day 4: From Dyngjufell hut to Botni hut
20 to 22km; 6 to 8 hours
Day 5: From Botni hut to Svartárkot farm
15 to 16km; 5 to 6 hours
Interesting facts
With an overall length of 67 miles the hike is currently the longest hike on Iceland available on TouriSpo.
Elevated between 912 ft and 4009 ft, the hike is the highest elevated hikes on Iceland. You're facing an uphill climb of 937 vertical meters on this hike.
You shouldn't forget to bring your hiking boots. There are some sections on the trail where sturdy footwear is required.
Video
Ódáðahraun IV - Trekking Dyngjufjöll... | 07:13
Equipment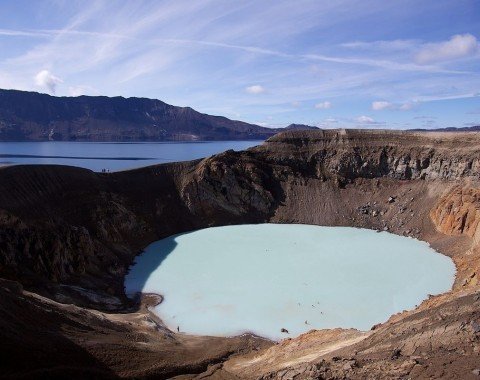 The water supply on the trail is very bad. Apart from the huts, there is no place to get drinkable water. Hence, you should always carry sufficient water for the day. Furthermore, you have to bring all your food. Since the trail leads through uneven grounds and lava fields, you sturdy hiking boots are absolutely necessary.
Getting here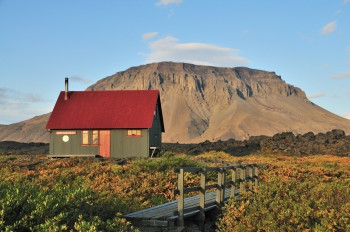 The hike starts at Herðubreiðarlindir, an oasis near Herðubreið mountain. You can get there on Mountain Road F88. The easiest way is to exit Road 1 near Hrossaborg, east of Lake Mývatn, and follow F88 from there. If you want to use public transportation, you should get a flight or a bus to Akureryi from Reykjavík. From there, another bus takes you to Reykjahlíð at Lake Mývatn.