Route description
The Long Range Traverse rates under the top 15 most beautiful hikes in the entire world. The area is only traversable between July and mid-October. The hike has to be registered beforehand and there is only a set number of people allowed in the region at the same time. You can register up to three months before your trip. There is also the possibility to let a guide escort you on your tour.
The start
The starting point is only accessible with a water taxi. Before you start your hike, you should be very clear about one thing. On this hike there are barely any markings or signs, so if you have trouble reading maps or working a GPS device, you should find another tour.
The supervisors will give you a location device, so you can signal your position in an emergency. Without this device you have no access to the trail.
After the two hour boat ride, you will get off at Western Brook Pond and your 35 kilometer (21 mi) tour begins. On your way you will encounter a beyond beautiful landscape, consisting of glaciers, fjord-like regions and before all untouched nature. Prior to this you should park a vehicle at the endpoint of your journey, because otherwise you have no alternatives on your way back. Worth mentioning is at this point, that the length specified above is the route by plane, so the actual hike will be a little longer.
From the loading berth of the boat you start your tour hiking up the canyon at the very end of Western Brook Ponds. Finding your way might seem easy, but in this case it is not. You will walk into a lot of dead-ends, which will cost you energy walking the way back to the right trail. If you managed to get to the top of the canyon you will be rewarded by an astonishing 360° degree view, all the way to the horizon. That hike up the canyon will also show you the necessary skills you need for further navigation. From this point on you should always carry a compass, map or GPS device with you.
Because there are no markings, it is not possible to describe an exact route. If you look under "Stops" you will find the possible resting places. These points can help you orientate yourself on your tour.
Possible overnight accommodation
Western Brook Pond
The first rest stop is very close to the starting point at Western Brook Pond. This stop does not hold much, except for a couple of picnic tables and a restroom. You are not allowed to set up tents here.
The coordinates are: UTM 21U 452380 5507076 – Decimal degree: N 49.714305 E -57.660558.
Advice: As soon as you starting walking up the canyon, you will notice that certain trails start disappearing. Possible reasons are that sometimes animals create these paths or simply because not every hiker walks the same trail. Depending on the water-level you might also have to traverse small creeks. You should also make sure you do not hike to far away from the canyon, because you will miss the waterfall that guides you the rest of the way. Passing the waterfall you will keep right and climb up a small way until you are above the drop. You goal will be, to climb up the wall rock. The top of the rock will provide an incredible view over the surrounding area. If you can, rest there for a little bit and enjoy the view before you keep on hiking to the nearest camping area.
Little Island Pond
This camping ground is on the west coast of Little Island Pond, about two kilometers (1.4 mi) away from the Western Brook Canyon. The area has three platforms, where you can set up a tent. Additionally there is a box called "bear box", where you must keep your food safe from animals such as bears.
The coordinates are: UTM 21U 455426 5503813 – Decimal degree: N 49.685191 E -57.617936.
Advice: Here you should definitely avoid hiking through the southeastern Sanders Canyon. As soon as you get to the river, which combines the Mars Pond with the Canyon, orientate yourself westward or southwestward. After that stay on the northern Side of the canyon and walk straight towards Marks Pond. Or you could also traverse the canyon and walk straight to Hardings Pond.
Western side of Mark Pond
About 2.5 kilometers (1.6 mi) south of Little Island Pond you will find this camping site. There are no actual boundaries or platforms, therefor you need to set up camp on the grass. The necessary boxes to keep your food safe will be provided here as well. Close to this pond you will find the best possible way to traverse the creek and get to the next camping area.
The coordinates are: UTM 21U 454720 5501254 – Decimal degree: N 49.662122 E -57.627426.
Advice: After you circled the lake, start going south and climb up the hill. Once you arrived on top of the hill, you are already on your way to the Hardings Pond.
Hardings Pond
Start walking southward from Marks Pond and in about 4,5 kilometers (2.8 mi) you will reach Hardings Pond. There you will find the next camping area. This camp site has three platforms for tents and a box for safekeeping of food.
The coordinates are: UTM 21U 453882 5497419 – Decimal degree: N 49.627567 E -57.638586.
Northern side of Green Island Pond
This camp site lies on the eastern side of a small lake, in the north of Green Island Pond. This camping ground is about six kilometers (3.7 mi) away from the prior camping ground. To get to this spot you have to hike down a small hill. This camp site has platforms for tents and a box for safekeeping of food. Close to this camp site there is a way to traverse the creek.
The coordinates are: UTM: 21U 449043 5494708 – Decimal Degree: N 49.602795 E -57.705233.
Ferry Gulch
This site lies directly on the Gros Morne Mountain Trail. Apart from three platforms for tents and the food boxes you will have restrooms available.
The coordinates are: UTM: Coordinates: 21U 444338 5493808 – Decimal Degree: N 49.594286 E -57.770216.
Where to eat
On this trail there are no possibilities of cooking food. There are also no sorts of places for contemplation or retreat available such as restaurants. You yourself are responsible for your meals.
Video
Gros Morne National Park | 02:56
Highlights of the tour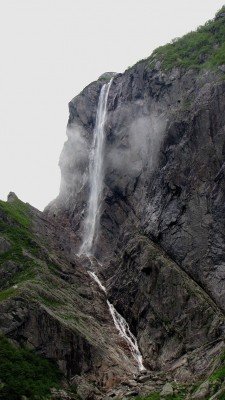 The hike itself is already a highlight, especially when you enjoy hikes that are a little more adventurous. On the entire trail you are responsible for yourself. You get to chose the trails you take and the place of your next goal. You get to chose the trails and make the trip your own. You will experience the nature, the national park and all of its vegetation and inhabitants on your way. The views on you way are unforgettable.
At times you will have to master exhausting climbing segments but it will be worth it every time. You get astonishing views of the landscape as far as the eye can see and can take breathtaking photos.
Variations
One of the main attributes of this hike is that there are no markings and very little signs. You will have to navigate your way through the trail by yourself from the start. Therefor there are numerous alternatives to this hike, because ever hiker usually takes another path.
Equipment
This hike requires excellent equipment, because you can never know what sort of trail conditions you find next. You will definitely need hiking boots that fit and are comfortable. Hiking sticks could be helpful when the trail gets a little steeper. A necessity is water proof clothing, because the weather can change within minutes in these lands. You should also pack a first aid kit just in case.
Other necessary objects:
backpack with water proof cover
a waterproof tent with under-surface
sleeping bag
camping stove, gasoline and matches
water bottle and an agent to filter/clean the water
food
maps, GPS device and compass
In total your backpack should not weigh more than 30% of your body weight to avoid unnecessary strain.
Getting here
The city of Corner Brook lies on the west coast of Newfoundland and can therefor be reached by car, by plane or by boat.
By plane
The nearest Airport is Deer Lake Regional Airport. It resides about 55 kilometers (34.2 mi) eastward of Corner Brook. From there you can get a flight daily to St. John's, Halifax or Toronto. Additional flights are available at Goose Bay and Wabush.
A little bit further away is Stephensville International Airport. Corner Brook lies about 83 kilometers (51.6 mi) away, which is a little further but in exchange international flights are available here.
By car
To get there by car you have to drive onto Trans Canada Highway. There are four exit possibilities. Exit 4 is on Lewin Parkway close to the Industrial Park and Wheeler's Road. Exit 5 is on Confederation Drive and takes you to "Town of Massey Drive". Exit 6 takes you on Lewin Parkway as well, but this time you are closer to a shopping mall. The last exit possibility is exit 7 on Riverside Drive.
By boat
The Marine Atlantic offers a shuttle service starting at the harbor in Basques all the way to North Sydney. A short stop will be made at the coast of Corner Brook after a 220 kilometer (136.7 mi) long drive.
If you start in eastern Quebec or from the southern part of Labrador, you have an alternative. There is a ferry starting at Blanc Sablon in Quebec to St. Barbe in northern Newfoundland. Be sure to check beforehand because it depends on the season, whether or not you can use this alternative.