Description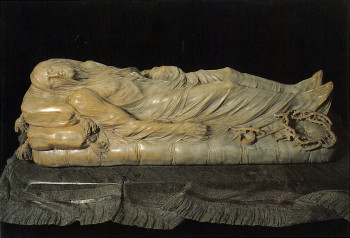 The Museum Cappella Sansevero is a former baroque church owned by the Italian noble family di Sangro. The church was originally built as a thanksgiving to the Virgin Mary, who was held responsible for various healings on the site. In the 18th century the church was used as a private church by Raimondo di Sangro, a prince who was mainly active as an alchemist and inventor.
From the outside, the church appears very discreet and by no means conspicuous, but from the inside, it is almost completely lined with marble and decorated with many paintings.
Two skeletons
In addition, there are two skeletons in the building; they are kept in glass boxes in the crypt and look as if the blood vessels on the body are still intact. For a long time, these exhibits were regarded as miracles, but in the meantime it has been proven that the veins are by no means genuine, but were made of beeswax, wire and silk.
Many myths
Many myths entwine around the whole building and especially its former owner. Through his experiments as an alchemist many dark, occult activities were ascribed to him. Even the alleged murder of two servants and the subsequent exhibition as statues were accused him, but none of this theory could really be proven.
How to get there
By public transport:
You can easily get to the museum by taking metro line 1 and getting off at Dante station. Then you have to meander through several small alleyways for about 5 minutes until you arrive in Via Francesco de Sanctis. This is where the church is.
There are also some bus stations nearby, but the buses in Naples are often delayed due to traffic jams.
Videos
LA CAPPELLA SANSEVERO PER... | 07:55
Raimondo di Sangro, settimo principe di..."E come d'un portento ancor se ne parla, e ancor si...
MERAVIGLIARTI 2014Ecco il video che riprende alcuni momenti dei cinque...