Description & Details
At Myvatn Nature Baths, visitors can relax inside the lagoon, or enjoy the natural steam baths, all against the backdrop of the beautifull surrounding nature. In winter, you can even see the uniwue northern lights while you bathe. With changing rooms, lockers and a restaurant, Myvatn Nature Baths has all the necessary facilities.
Saunas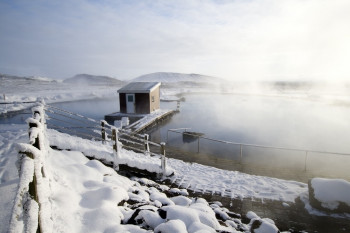 The two steam rooms were built right onto geothermal soil, which means that sulphur-free steam can enter through wholes in the ground. The temperature is usually around 50 degrees Celsius, with a humidity of nearly 100 percent.
Interesting facts
There are parking spaces available in the vicinity.
Grab something nice to eat and a cold drink at the local kiosk or restaurant.
Video about Myvatn Nature Baths
Nature Bath Mývatn, North Iceland | 10:43
Wellness & Beauty
You can book a variety of massages at Myvatn Nature Baths.
How to get there
Myvatn Nature Baths is located in Iceland's North East, off Route 1, which leads you straight from the capital Reykjavík through the northern part of the island all the way to the nature bath. Towns you pass on the way include Mosfellsbær, Borganes, Húnavatnshreppur and Akureyri.