Description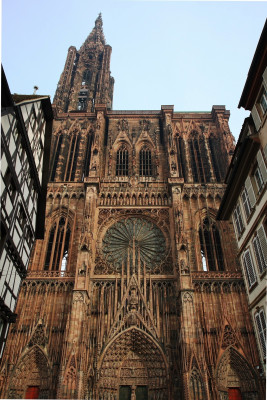 The Cathedral of Our Lady of Strasbourg, named Cathédrale Notre-Dame de Strasbourg in french and Liebfrauenmünster zu Straßburg in German, is the second-most visited church in the whole of France just behind the Notre-Dame de Paris. The construction process of the cathedral began as early as 1190 before being expanded over the years to the way it looks today.
Architecture
Because of numerous enhancements the Strasbourg Cathedral today represents a mix of many different architectural styles as parts are built in Romanesque or Renaissance architecture, even though it is widely considered to be among the finest examples of high, or late, Gothic architecture. Until 1874 the cathedral was the tallest building in the world due to its 142 meter high bell tower. It was later surpassed by the St. Nikolai Church in Hamburg, Germany. Because of its tremendous height the top of the church is even visible from the German side of the Rhine. The facade was built from new red sandstone and magnificently seems to change colors depending on the time of day and weather conditions. However, the usage of this type of material does bring some disadvantages to the construction. New red sandstone is a porous material and has to be under regular restoration work.
The shape of the Strasbourg Cathedral is characterized by its asymmetry. The close to 150 meter high North Tower rises up high in the sky, whilst plans for a new tower next to it to reach a symmetry were contentiously discarded giving it its typical form up to this day.
In the southern transept of the cathedral you will find one of the main attractions of the minster, the astronomical clock. It consists of a great clock with a sun and a moon shaped clock-hand and a sky globe which is propelled by the clockwork mechanism. The twelve apostles roll past the mechanism each day at 12:30 PM. Meanwhile, the heaviest bell ensamble in France is part of the Strasbourg cathedral which consists of 12 sound bells and four bells that announce the current time. It is possible to visit a viewing platform within the bell tower above the southern tower fragment and enjoy a magnificent view over Strasbourg and the Alsace on top of 66 meters.
How to get there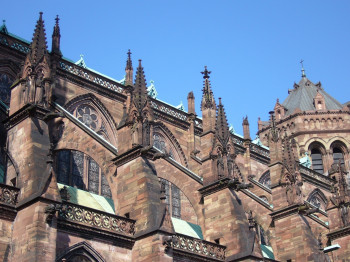 With public transportation:
Strasbourg is easily reachable from Germany with the trains of the Deutsche Bahn (DB) and is even still located on the German railway network. Take tram lines A or D in the direction of the city center to reach the Strasbourg cathedral from the central station or take a walk there. The cathedral is located not too far from the central station.
Videos
Straßburger Münster | 13:10
Astronomische Uhr im Straßburger MünsterDie astronomische Uhr hat ein Kalendarium, Anzeigen für...