Description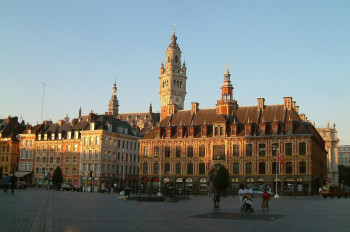 The official name of The Grand Place is "Place du Général-de-Gaulle" (transl. General De Gaulle square), named after the former French President Charles de Gaulle, who was born in Lille and is a honorary citizen of the town in northern France. The square has been one of Lille's main attractions since the Middle Ages and is located right in the center of the city.
Location
The square was used as a location for the former wheat market as early as the 11th century and is now situated in the lively old town of Lille. Next to it, you will find the old stock exchange of Lille, yet another tourist attraction of the city. Nowadays this building is the home for antiquarian books, flower stores and even a chess club. The former stock exchange has three floors which can be entered through four separate entrances, one for each side. There is a patio in the middle of the building which used to invite the bankers for a rest within the hustle and bustle of the stock market.
Across from it you will find the famous Furet du Nord, the largest book store in Europe with books on over 7,000 square meters of space. In the center there is the Colonne de la Déesse on the Grand Place, a victory monument of the French Revolution, surrounded by a big water fountain. Furthermore, you will find the "Métaphore" Theater on the square, which also represents the former house of the royal guards.
Highlights
The buildings surrounding the Grand Place give you an insight of the French architecture from the 17th up until the 20th century. Since 1989, another special highlight is the yearly Christmas Market on the square.
How to get there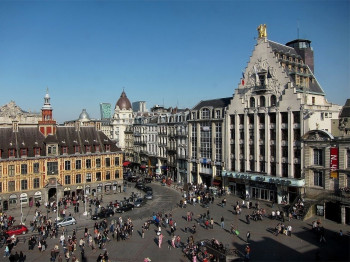 With public transportation
Take metro line number 1 to the Grand Place and get off at Rihour Station. It is also only about a ten minute walk to the square from one of the two train stations in Lille.
Videos
GRAND PLACE - LILLE - SIGHTSEEING | 00:39
La Grand-Place - Visites privéesLa Grand-Place de Lille est une véritable institution...