Description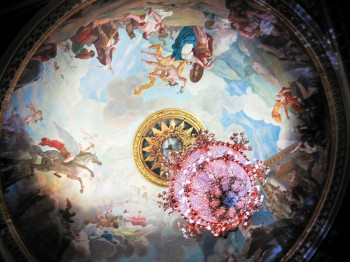 The Grand Théâtre de Bordeaux is the most significant theatre of south-western France. It includes the Opéra National de Bordeaux. The theatre is a performance venue for operas, theatres and other events. It offers a capacity for 1,100 visitors in total. Architecturally, the building is designed as a rectangle and faces the Place de la Comedie, which a fantastic square to dwell in for quite some time.
History
The theatre was built between 1773 and 1780. Its architect, Victor Louis, is also known for having built the French Theatre in Paris as well as the Palais Royal. The neo-classical façade of the Bordeaux theatre contains sculptures deriving from ancient mythology: nine muses and the three goddesses Juno, Venus and Minerva. The edifice itself was built out of brown sandstone. One can reach the main doorway by climbing five representative steps on the flight of stairs. In 1991 the theatre was renovated and its decorative elements were renewed.
What's special about the building is that it is entirely held together and supported by only a wooden frame. This kind of construction technique is rare nowadays. Most buildings that were constructed this way had been destroyed by fire in the course of time.
The opera came to fame through the many famous artists who gave performances here. Legend has it that among many others Franz Liszt and Gilbert Duprez used to work at this very opera. Up to this day the Bordeaux opera has remained a performance venue for excellent artists.
How to get there
By public transport:
One can get here by taking tram line B and getting off at the station "Grand-Théâtre". There is also the possibility to get here by using tram line C and getting off at the station "Quinconces".
By car:
You can of course get here by taxi or car. In the vicinity of the opera, you'll find several parking facilities.
Videos
Le Grand Théâtre de Bordeaux | 00:27
Le Grand-Théâtre de Bordeaux, l'un des...Un monument aux dimensions hors norme, un véritable...