Description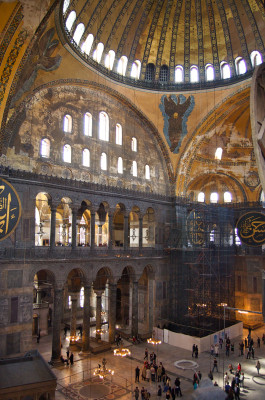 Church, mosque, museum - on its way to one of Istanbul's most important landmarks, Hagia Sophia has played a number of different roles. Today it is one of the most visited museums in the world. So if you are planning a trip to Istanbul, don't forget to put "Holy Wisdom" on your bucket list.
The Interior
Upon entering the sacred building you are sure to be amazed. The interior is dominated by the gigantic dome. It used to be the highest as well as the largest of its kind, giving Hagia Sophia the title of "eighth wonder of the world" during late antiquity and the Middle Ages. After a number of earthquakes it had to be repaired and restored various times. As the threat of earthquakes in the region remains, experts still fear for the dome's stability.
Moreover, you will find a range of mosaics, calligraphies, and tiles collected at the building throughout the centuries. As the Christian basilica was turned into a mosque, a good part of the Christian insignia and artwork was not destroyed, but merely covered up with Muslim replacements. When the building was finally converted into a museum, those responsible made sure to uncover remaining Christian artwork without damaging the Muslim pieces. Hence, today's visitors are presented with an impressive mix of both religions.
Exterior and Architecture
When you visit Hagia Sophia, don't forget to have a look at the exterior area as well. Besides a range of smaller buildings, you can find fountains and a number of sultan tombs.
Its large dome as well as its structural harmony give Hagia Sophia a unique architecture. Built under Emperor Justinian's reign in the 6th century, the former cathedral of Constantinople is one of the most important early Byzantine buildings. It has had a major impact on church architecture.
When Constantinople was conquered by the Ottomans around 900 years later, the basilica was converted into a mosque; minarets were added to the building's structure. Serving as the Ottomans' main mosque for centuries, it has also impacted the achitecture of future mosques.
Historical Information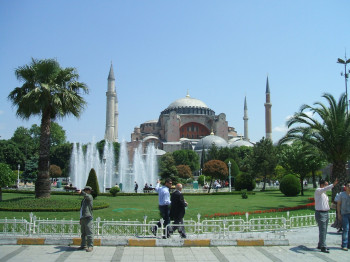 Hagia Sophia's history dates back many centuries. Even before Emperor Justinian ordered the domed basilica's construction in the 6th century, there had been two different churches at the exact same spot. Both of them are said to have been burned down during uproars. "Holy Wisdom" was the Byzantine Empire's main church, and as such was coronation church for Byzantine emperors, and scene of important historic events.
Approximately 900 years later, Constantinople was conquered by the Ottomans in 1453. As a result, Hagia Sophia was turned into a mosque; Christian regalia, bells, and decorations were destroyed, abducted, or covered up. The former cathedral became the Ottomans' main mosque.
Almost 500 years after, in 1935, Turkey's first president Atatürk and his cabinet decided to convert the mosque into a museum. Christian aspects resurfaced, while at the same time the Muslim pieces were protected. Thus, visitors today are able to track the building's impressive architectural and art-historical development.
Occasionally, ideas of converting Hagia Sophia back into an orthodox church or a mosque are still cause for controversy.
How to get there
Hagia Sophia is located in Eminönü, at the European part of Istanbul. You can reach the muesum easily on public transportation. The nearest station is "Sultanahment". From there, simply follow Divan Yolu Cd. eastbound for approximately 3 minutes.
Video
A Walk Around The Hagia Sofia, Istanbul | 04:59