Description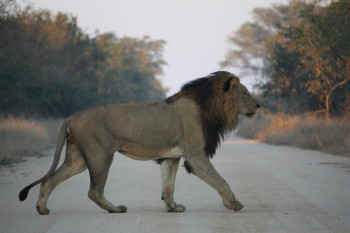 Kruger National Park is South Africa's largest nature and wildlife reserve. It is located around 4 hours from Johannesburg, and stretches over the provinces Limpopo and Mpumalanga along the borders with Zimbabwe, Mosambik and Swaziland.
Visit the Big 5
Kruger National Park is home to more than 500 bird, 114 reptile, 49 fish, and 34 amphibian species. Furthermore, nearly 150 kinds of mammals are under protection here. The fenced area offers safe and protected space for this biodiversity to prosper. Kruger National Park's flora is also very special. You will find more than 330 types of trees, including the famous baobab.
Watch hippos and crocodiles in the numerous rivers, or let the Big 4 - elephant, leopard, rhino, buffalo and lion - fascinate you. Kurger National Park is very popular among travelers in South Africa. Hence, there are various options to explore the park withing guided or private tours and safaris. Whether it is a multiday camping safari, a day tour, or an elephant safari - the broad offer touches on almost anyone's interest and budget.
Great Limpopo Transfrontier Park
Right adjacent to Kruger National Park, a giant cross-border nature and animal reserve is created at the trijunction between Zimbabwe, Mosamik and South Africa. First steps towards the mega-project have been taken in the year 2000, but the extensive process is still not finished.
The trinational park is supposed to attract tourists with new guesthouses, lodges, hotels, and other accommodation, thus boosting the economy in and around the park areas. However, the most important thing is: the 100.000 km² surface will provide a safe habitat for hundreds of animal and plant species, where the lack of border fences will help populations recover, prevent in-breeding, and reduce disease transmission.
Historical Information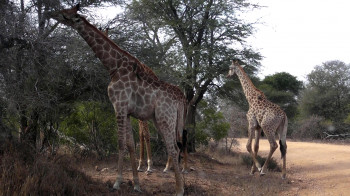 Thousands of years ago, the San, South Africa's indigenous people, hunted on the premises of today's Kruger National Park, looking for food. When first findings of gold in the area became public, more and more explorers from all around the world were attracted. As the gold-digging was not always successful, many of the settlers took to hunting the wildlife. Ivory and fur trade flourished, and over the years, populations kept shrinking, until many species were almost extinct.
It was Paul Kruger, president of South Africa, who first endeavoured to protect the local nature and its inhabitants, by declaring Sabie Game Reserve as a protected area in 1898. The creation of a national park was delayed by the Boer War, but furthered under British rule. Finally, Kruger National Park opened its doors to the public in 1927.
How to get there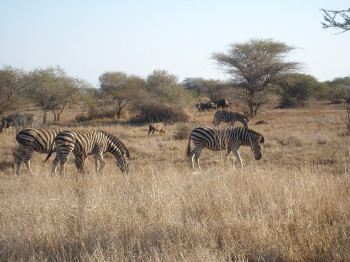 To get to Kruger National Park, it is best to fly to Johannesburg or Cape Town.
From Johannesburg
Either book a connecting flight to Nelspruit, or rent a car and drive to the national park. Simply follow N 12, and then N 4 towards Nelspruit.
From Cape Town
On road N 2, drive towards Garden Route and on to Durban.
Other Ways by Car
If you are already in the country, you can also get to the park by car from Durban or Port Elizabeth. From Durban, take N 2 towards Swaziland. Either visit the kingdom and then continue via R 570, or drive around it via N 2. From Port Elizabeth, you also follow the N 2 towards Swaziland and on to Kruger National Park.
Videos
3 Lionesses lead 8 Cubs to Wildebeest... | 12:04
Elephant Herd Protects Baby Elephant while...user
Biggest Wild Dog Pack in Kruger Park !...user
2 Leopards Attack Giant Rock Python !...JPwyZugI_xU