Description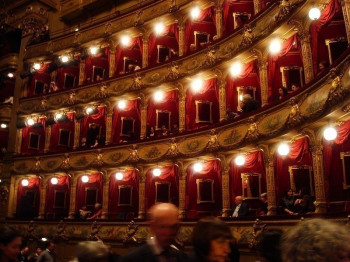 The history of the Opéra de Nice goes back to the year 1776 when the marquise Alli-Maccarani let her residential building be rebuild into a theater with the name "Le Petit Théâtre Maccarani". Unfortunately, the new theater was destroyed by fires and other coincidences. The bad luck would continue for the buildings: Eventually in 1881 the reconstructed opera was demolished in a gas explosion with a devastating effect. The opera had to be torn down completely. It was years later that the construction was rebuild in the style of the Opera of Paris by Francois Aune, a disciple of Gustave Eiffel. The new Opéra de Nice was finally inducted in 1885 with a performance of Verdi's "Aida".
Throughout the years the opera had many different names until being named Opéra de Nice in 1902. The extension "Côte d'Azur" was added later. The very special atmosphere with velvet curtains and sparkling chandeliers will make you feel the reminiscent opera flair right from the beginning. That and numerous other facts are the reason whey the Opéra de Nice is classified as a "monument historique" by the Republic of France since 1993.
Productions
Many operas, concerts and ballets are being performed on the glorious stage of the opera. The Opéra de Nice Côte d'Azur has room for about 1,200 seats, distributed on stalls and boxes. There are often still tickets available shortly before the show for a very affordable price.
Opera performances can be seen from September to June of every season. The rest of time is room to rehearse new works in order to give the audience as much variety as possible. Usually, there are seven different operas to see and about 15 concerts per season.
How to get there
With public transportation
It is easiest to get to the Opéra de Nice with tram line number 1 whilst getting off at the Nice-Opéra-Vieille Ville station.
If your in the mood for a walk, walk along the Nice city promenade to get to the opera a little bit further into town.
Video
Les ballets de fin d'année de... | 02:26