Description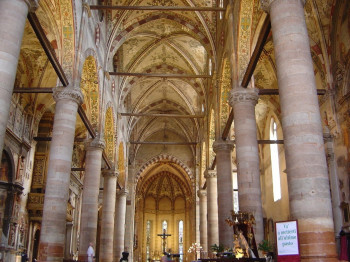 Art within the Sant'Anastasia:
From the outside, this famous church is very inconspicuous, mostly because its external façade was never completed. On the inside however, the Sant'Anastasia seems more like an art gallery then a church. All of its walls and the ceiling are filled with colorful images and frescoes. A very unique example represents the fresco of Altichiero "Adoration of the Virgin". Moreover, the hunchback statues, a work by Gabriele Caliari, are highlights of the church.
Architecture:
The church contains of three aisles, whereby the transept is split in two separate halves. There are six smaller chapels placed by the end of the transept in which the highly decorated altars can be found. One of those six chapels marks the remains of the old part of the cathedral: The churches predecessor with equal name was placed right here.
Historical Information
The Sant'Anastasia is the biggest church in Verona and was built by the architects and monks Fra Benvenuto de Bologna and Fra Nicoló d'Imola. The cathedral originated from two smaller churches that were ought to become one grand cathedral which was planned to be realized in 1261.
How to get there
Walking to the sight:
The church Sant'Anastasia is located within the old part of the city Verona. Hereby, the church is situated within the Ponte Pietra and the Ponte Nuovo bridge and is easily reachable from both sides of the Adige river.
With public transportation:
You can also get to the church with bus line 70: Hereto you take the bus to the "Via Massalongo" station. Keep in mind however, that buses only operate on work days!
Video
Chiesa di Santa Anastasia - Inside... | 04:14