Description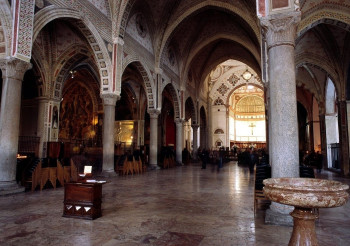 Santa Maria delle Grazie is a church with an attached Dominican monastery, which was completed at the end of the 15th century. The church was commissioned by Duke Ludovico Sforza and was later to serve as a burial church for the following Dukes. The church is kept in the late Gothic style and is therefore a perfect example of the architecture of Milan at that time. The church is famous for the Last Supper of Leonardo da Vinci, which is held in the refectory, the dining room of the monastery. The church was heavily destroyed in the 2nd World War, but could be rebuilt for the most part.
Visitation
Today the painting can only be viewed by passing through some security measures. Each visitor can only view the painting in a period of 15 minutes, after which the dining room must be left again. In addition, some security and dust locks must be passed in order not to damage the painting.
Historical Information
Leonardo da Vinci's Last Supper
The painting is considered one of Leonardo da Vinci's most important works and, together with the church, has been part of the UNESCO World Cultural Heritage since 1980. The 9 by 4 meter large picture shows the Lord's Supper of Jesus and his disciples. The painting shows the reactions of the disciples after Jesus announced to them that one of those present would betray him. The painting is regarded as a milestone of its time, as it was created with an impressive perspective depth, which subsequently strongly influenced the painting of the Occident. Leonardo da Vinci made extra studies and sketches for each person depicted in the picture, which are now kept at Windsor Castle. This also explains the long time of origin of 4 years. The painting is painted in oil technique, whereby it took already during lifetimes of da Vinci large damage. The painting can be preserved by modern restoration methods and protective techniques.
How to get there
By public transport:
To get to the church of Santa Maria delle Grazie you can easily use the tram network of Milan. All you have to do is take line 16 and get off at Magenta Santa Maria delle Grazie station.
You can also take the M1 to the Conciliazione stop and walk 5 minutes to the church.
Videos
Drone Views: Leonardo da Vinci's... | 04:36
Milan: Leonardo Da Vinci's Last Supper...[ENG] Church of Santa Maria delle Grazie, Milan. We are...
Santa Maria Delle Grazie Church (The Last...We decided to visit the Santa Maria Delle Grazie Church...