Description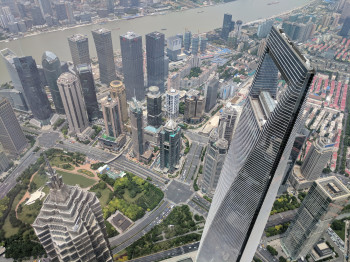 What's the best way of getting an overview of a multimillion inhabitant city like Shanghai? From the top of course! Seen from Shanghai Tower's 561 metres viewing platform, massive Shanghai suddenly looks like a toy city. While the 632 metres high skyscraper comes only third on the list of the world's highest buildings, after Burj Khalifa and Tokyo Skytree, it does have the highest viewing platform in the world.
Shanghai Tower's main purpose is not tourism. The main reason it was built was to try and handle the enormous growth of population in the Chinese city. At so called vertical neighbourhoods, it is home to a hotel, offices, shops, and restaurants. Floors B1, 118, 125, and 126 are open for visitors.
Sightseeing on Top of Shanghai
Your visit starts at Top of Shanghai Exhibition Hall. Through high-tech multimedia effects, a number of exhibitions explain everything there is to know about Shanghai Tower. Afterwards, the world's fastest lift takes you up to Top of Shanghai Observatory. A unique view over Shanghai's famous buildings, nature, and its sky awaits you. At Top of Shanghai Store, visitors can purchase a souvenir photo and a range of other keepsakes. Finally, you can move on to floors 125 and 126 to visit Shanghai Eye exhibition. A 1,000 tons damper is located here. Its purpose is to stabilise the construction. Its functioning is explained with interactive signposts. Furthermore, visitors enjoy 4D music pieces.
Shanghai Tower is part of an architectural ensemble at Shanghai's financial district Pudong, including also skyscrapers Jin Mao Tower and Shanghai World Financial Center. Its spiralling facade is meant to symbolise the emergence of modern China.
Historical Information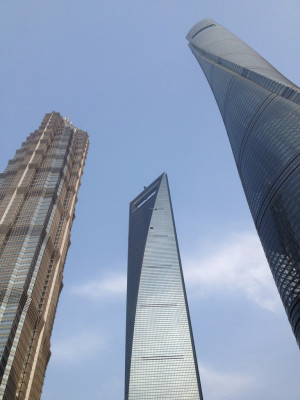 Planning of Shanghai's financial district started in 1993, and has always foreseen a group of three tall skyscrapers. Jin Mao Tower was completed in 1998, Shanghai World Financial Center followed in 2008. That same year, construction of Shanghai Tower was started. Initially, it was supposed to be finished for Expo 2010. However, construction wasn't completed until summer 2015. The viewing platform was opened in March 2016.
How to get there
Shanghai Tower is located at Pudong financial district, on the eastside of Huangpu river. Coming here by car requires some knowledge of the city as well as a lot of patience.
The easier option is to travel on public transport. Liujiazui metro station is situated on the green Line 2. Through various malls or over footbridges along Century Avenue, you get to Shanghai Tower. The out-building with the ticket counter as well as the entrance are located at the west side of the tower.
Video
Shanghai Tower 上海中心大厦 | 02:19