Description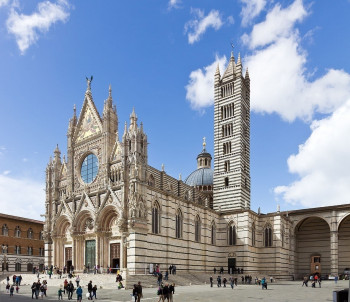 History
Siena Cathedral is the most significant cathedral in the tuscan town Siena. Its official name is Cattedrale di Santa Maria Assunta. Made out of black and white marble the cathedral reflects the gothic style of the 13th century perfectly.
Although it was first built as a romanesque basilica it was later reconstructed to be a gothic cathedral. A heightened and vaulted nave as well as an elaborate transept were added in the 13th century. What is left from the former romanesque design is the hexagonal dome. Later on a further attempt to redesign the cathedral was prevented by financial issues and a plague epidemic infesting the city in the 14th century. Eventually the last piece of the cathedral namely the Campanile, a detached bell tower, was added in the 14th century.
Highlights
You will be able to explore many fascinating details within the cathedral, such as a tessellated floor that was made by 40 artists. That floor shows biblical stories and allegories about wisdom and virtue. Right behind the cathedral stands the Piccolomini library, which was founded by Pius III in honor of his oncle Pius II. Nowadays it holds various collections of choirbooks and paintings.
How to get there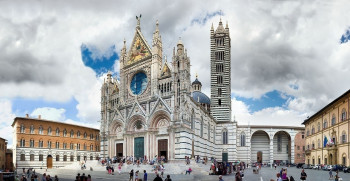 By public transport
Siena Cathedral is located at Piazza del Duomo. The easiest way to get there is either by bus (exit Piazza di Postierla and follow Via del Capitano) or by foot starting at Piazza II Campo.
Unfortunately it is not possible to get there by car since you are not allowed to drive within the old town.
Videos
IL DUOMO DI SIENA SPOT ING | 00:22
PORTA DEL CIELO SPOT english versionDescrizione
Il Duomo di SienaIl Duomo di Siena, capolavoro assoluto di bellezza,...