Description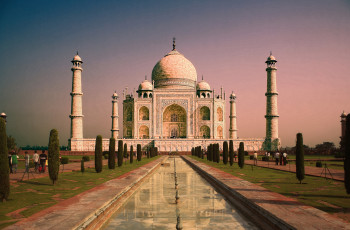 Landmark, mausoleum, Wonder of the World, symbol of undying love - the Taj Mahal in Agra, India, has many different meanings. It was built in the 17th century, by mogul Shah Jahan, who wanted to create a unique sepulchral monument for his late wife, Mumtaz Mahal. Today it is one of the most visited and most photographed buildings in the world.
Impressive Architecture
The large dome and four minarets bear witness to the islamic influence on the gravesite's structure. The symbiosis of Persian and Indian architecture is what makes the impressive building so unique. Burnt bricks, covered in marble, make up the walls, interspersed with 28 different kinds of gemstones.
In front of Taj Mahal you see the large garden with its long water basin - a photo motif we have all seen before. How true to the 17th century original it is can no longer be told. Large parts of the premises were restored under a British lord at the beginning of the 20th century.
Tourist Hotspot
If you travel to India, you won't get around a visit to Taj Mahal. Around 8 million people visit the mausoleum each year, for various reasons: Indian and foreign newly-weds may hope for a visit of the love symbol to turn their love strong and eternal. Many Muslims, however, visit the adjacent Agra mosque as a place of prayer. But for most visitors, motives are purely touristic. After all, Taj Mahal ist one of the most beautiful and important examples for Mogul architecture. Furthermore, it is UNESCO World Heritage site, and one of the New7Wonders of the World.
The structure is impressive not only from the outside. Its interior is just as extraordinary. Walls and tombs are decorated with reliefs and colourful Pietra dura style inlays. They range from floral designs to Quran inscriptions. Mumtaz Mahal's tomb lies in the middle of the central room, perfectly in line with the structure's symmetry. Shah Jahan's grave, which was added later on, is right next to it.
Besides the tombs, Taj Mahal complex also holds the Taj Museum. You can visit it between 10 am and 5 pm, free of additional charge.
Protection and Maintenance
Nearly 400 years and millions of visitors have left their mark on the imposing structure. Hence, Taj Mahal ins protected by various organisations. Measures, such as limiting the number of visitors, are supposed to counteract its decay. However, tourists also generate income needed for restauration works.
Therefore, you should follow a certain code of conduct when visiting Taj Mahal. For example, it is not allowed to touch or scratch walls and surfaces. Moreover, eating and smoking is forbidden on the premises.
Historical Information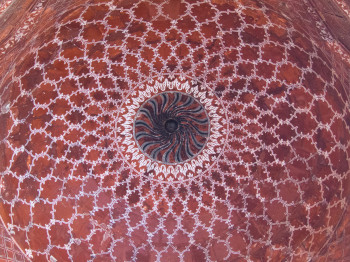 Taj Mahal's history is as romantic as it is tragic. Mumtaz Mahal was the name of Great Mogul Shah Jahan's wife. When complications occured during the birth of her 14th child in 1631, she is said to have uttered a last wish: a sepulchral monument that was unique in the entire world. She was Shah Jahan's one true love, losing her was unbearable. Hence, after her death, he dedicated himself to fulfilling her last wish.
Therefore, construction of Taj Mahal began in Agra, shortly after her death. The imposing mausoleum was meant to become a symbol of eternal love. 20,000 workers, 1,000 elephants, and materials from all over the continent, formed Taj Mahal over the course of 17 years.
Shah Jahan spared no expenses, at the cost of state treasury and his people's well-being. Riots arose, and in 1657 Shah Jahan was dethroned by his own son. He spent the rest of his life as a prisoner. His plan to build a black marble monument for himself, right opposite Taj Mahal, was never executed. Instead, he was buried against his wish next to his wife in 1666.
Nowadays, Taj Mahal is India's most important landmark. Up to 8 million tourists from all over the world come to visit it every year.
How to get there
You can get to Agra Airport via Delhi. For those already staying in India, Agra is also accessible on train. Furthermore, it is conntected through big roads with most major Indian cities. From the city of Agra, you get to Taj Mahal by taxi or rickshaw. To protect the white marble from the effects of air pollution, diesel and petrol cars are banned around Taj Mahal. If you plan to go by car, parking is available at Shilpgram.
Video
Taj Mahal, India Video Tour in 4K | 08:24