Description
A Jewish world monument
If you are planning a trip to the Czech University town Pilsen (2015 also European Capital of Culture), do pay a visit to the Jewish synagogue. Apart from St. Bartholomew's Cathedral, which is located directly opposite, the synagogue is one of the main attractions of the city. Its two brick-colored onion towers are very characteristic for Pilsen. The established Jewish community is especially proud to have the second largest synagogue in Europe, recently shining with a new gleam. Only the synagogue in Budapest is bigger.
The Moorish-Romanesque building was completed in 1893 under the direction of architect Manuel Klotz. Pilsen used to have a total of five synagogues, but left today are merely the Great Synagogue and the Old Synagogue at Smetana Park.
The large western Bohemian city has long been regarded as the cosmopolitan center of the country. Hence, the prayer house combines different types of style. The artwork was built mainly in a Romanesque style, but it also contains elements of the Neo-Renaissance as well as oriental ornaments.
Historical Information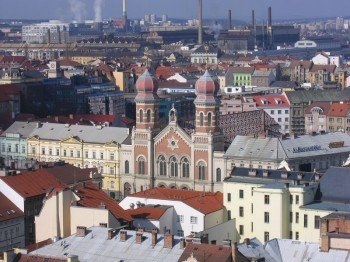 A history packed with change and tradition
The region surrounding the Bohemian city Pilsen has already been inhabited by Jews since the 14th century. Despite the changeful history of the town, the Great Synagogue has survived up until the 21st century. During the Nazi-Regime it functioned as a depot and survived the years 1939 to 1945 during the war.
The changing circumstances though caused the synagogue to deteriorate more and more in the following years. The Jewish community in Pilsen shrunk drastically and temporarily closed down completely during communist predominance. Even after the decline of the Soviet Union in 1989, there was not enough money to restore the degenerated building.
More than a house of prayer
After an extensive renovation at the end of the last century, the historical building adopted further functions. The outstanding acoustics in combination with the unique atmosphere transform the building into a concert- and exhibition hall today. The native-born Pilsen Karel Gott already gave a concert here.
How to get there
By car:
Coming from the North over the A3 in Nuremberg, or the A93 from Regensburg or Munich, you reach the A6 towards Prague. Follow the A6 for about 100 km up to the exit 89. The route 26 takes you right into the center of Pilsen. There, the street crosses the route 25, which you follow a short while, before the Great Synagogue appears on your right hand side.
With public transport:
Numerous long-distance trains stop in Pilsen. Within the city you can easily walk to the most places, although the tram and bus network are also well developed.
Video
The Great Synagogue in Pilsen | 01:23