Description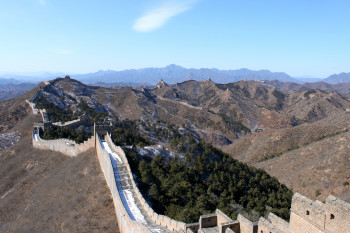 The Great Wall of China stretches through nine different provinces, extending more than 21,000 kilometres from China's northwest to its east coast. The ancient fortification winds through landscapes of desert, mountains and meadows. It is practically impossible to visit "the" Great Wall of China. The upside: you get to choose the part that matches your interests and needs. At this diverse attraction, anyone will find the right fit.
Versatile Sections
The most famous and most frequently visited section of the Great Wall is situated around Beijing, making it perfect for a day trip. It goes back to the Ming dynasty, and extends over 8,900 kilometres.
Depending on what you expect from a visit, you have a variety of possibilities. For those who prefer easy-going, or if you are travelling with children, Mutianyu might be a good fit. This part of the Wall is entirely restored, with secured walkways, dining facilities and cable cars. A special highlight: you can chute back down on a slide. Other options for less demanding visits are Simatai, Juyongguan, or Badaling. The latter is most popular among Chinese tourists, and includes the Great Wall Museum as well as a cinema.
If you are into nature and don't mind a bit of exercise, Jinshanling might be the place for you. Partly restored, partly ragged, this is a good section for hiking, while also offering some convenience. Another possibility would be Huanghuacheng. Famous for its location by a reservoir and its 500 years old chestnut garden, it is equally popular with hikers.
Fancy a little more adventure? Parts like Gubeikou or Jiankou are entirely unkempt and don't offer any tourist facilities. Due to steep and partially dangerous spots, only experienced and robust travellers should venture into these sections of the Great Wall.
Activities at the Great Wall of China
As previously mentioned, the Great Wall of China is a great place for a hike. No matter your choice of section, you are sure to enjoy an impressive view of Chinese landscape. In addition to that, there is a range of other activities to pursue here. How about some camping, for example? Spending the night at one of the ancient watch towers gives you the opportunity to enjoy some peace and quiet without the usual bulk of tourists. If you are into sports, you should check out Huangyaguan. The Great Wall Marathon is held here every year - a unique experience for any runner.
Historical Information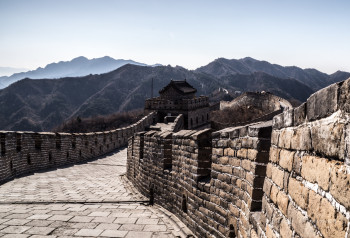 The history of the Great Wall of China goes back thousands of years. The oldest portions date back to the 7th century BC. For centuries, defensive walls were built all over China, with the purpose of retaining enemies, especially nomadic horse peoples from the north. They were first joined together to form the "Wan Li Chang Cheng" (10,000 Li Long Wall) in the 3rd century BC, under Emperor Qin Shi Huang.
Nowadays, the Great Wall of China is a famous landmark, and one of the world's largest and most famous tourist attractions. It is one of the New7Wonders of the World as well as an official UNESCO World Heritage site.
How to get there
The journey to the Great Wall of China is a bit tricky. If you have access to a car, you can drive to your chosen section from Beijing. To get there on public transport is more difficult: there are no direct bus or train connections, and changing onto various busses or trains might turn out rather complicated. The safest and easiest way to get to the Great Wall is if you book a journey with a private tour operator.
Video
The Great Wall of China in 4k - DJI... | 05:41