Description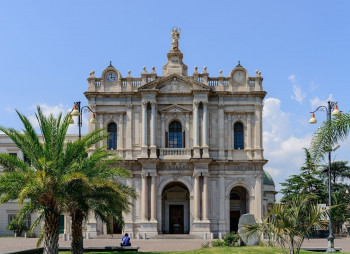 The Pontifical Shrine of the Blessed Virgin of the Rosary of Pompei, or as it is called in Italian "Santuario della Beata Vergine del Rosario", is a Roman Catholic cathedral in the new part of the city Pompeii. The cathedral is about five minutes away from the stratovolcano "Mount Vesuvius" and was completed in the second part of the 19th century.
The cathedral is a world known pilgrimage church that fits about 6,000 people. In addition, there is a Campanile, an independent bell tower, next to the basilica which offers a magnificent view on the platform on top of the 80 meter high tower. The entry to the basilica is without charge, there is however a small fee to take the lift to the viewing platform.
Historical Information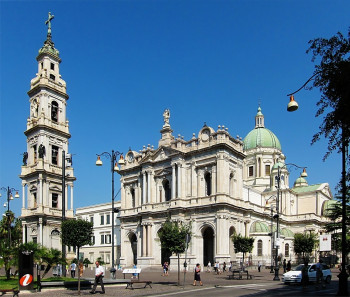 The name of the cathedral originates from the image of the Virgin Mary which is located above the altar. The church was built on the exact spot where there very probably have been little basilicas many years before already. Meanwhile, the construction of the large cathedral was highly subsidized by the population of the village Pompeii itself. Each month every inhabitant gave a penny for the restoration of the church away and therefore contributed greatly in the rebuilding process of the cathedral.
The church is credited to make wondrous thing happen such as multiple miracle cures close by the cathedral after the laying of the foundation stone in 1876. The cathedral is under the care of the Pope since 1894 and is being restored by the Vatican. In the meantime the cathedral was even named a Marian pontifical shrine.
How to get there
With public transportation:
The cathedral is about midway between several train stations. The closest station to reach the church are Pompei, Pompei Valle or Villa dei Misteri. You can take a short walk to the church from there.
You can also take the bus through the city. However, the bus stops are not a lot closer to the church than the train stations.
Videos
Santuario della Beata Vergine Maria... | 05:26
Pontificia Basilica Santuario Maggiore...Pompei: Santuario.
Santuario della Beata Vergine del Rosario...Su Tv2000 un viaggio dedicato ai più importanti luoghi...