Description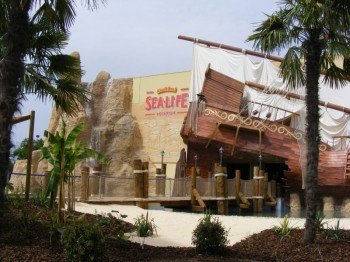 Discover the secrets of the oceans
Part of Italy's largest amusement park called Gardaland is the Gardaland Sea Life Aquarium where old and young can explore the mystery of the seven seas. In differently themed sections the natural habitats of numerous marine animals were reconstructed. Through these reconstructions children as well as adults can learn about the true nature of sharks, how sea horses procreate and many more interesting facts about the depths of the ocean.
Highlights at Gardaland Sea Life Aquarium
One of the many highlights at Gardaland Sea Life Aquarium is for example the Turtle Paradise. Here you can see real freshwater turtles and learn a lot about their 200 million year long evolution.
Another highlight would be the walk through the Ocean Tunnel. This little passageway passes through a large basin with glass walls. Lots of marine animals and even sharks can be seen here from all angles. In total Gardaland Sea Life Aquarium is home to over 100 different species of sea life. Ever since the movie "Finding Nemo" hit cinemas you can also see and admire the small Anemone-fishes or better known as Clown-fishes.
Restaurant and Playground
At the neighboring restaurant you can grab a bite to eat after all those fun experiences and heaps of information. There is also a playground for children and a park which opens only in the summer months.
Historical Information
Gardaland Sea Life Aquarium was first opened in 2008 and is part of the neighboring amusement park Gardaland, the largest fun park in Italy. The theme park was opened already in 1975. According to the economic journal Forbes the amusement park belongs to the Top 5 of the most successful theme parks in the world.
Gardaland belongs to the Merlin Entertainments Group, a British operator of more than 80 recreational facilities in the world.
How to get there
By car
Coming from Milan or Venice take the highway A4 until you reach the toll station at Peschiera del Garda. Exit the highway and follow the brown signs leading you to the Sea Life Aquarium.
Starting in Modena take highway A22. When you get to the motorway junction change onto highway A4. At Peschiera del Garda leave the highway and follow the signs.Coming from Austria take the Brennerautobahn (highway) and exit at the toll station Affi. Follow the expressway all the way to Peschiera del Garda. From there signs will lead you to your destination.
The Sea Life Aquarium is right next to Gardaland in Castelnuovo del Garda. The park as well as the aquarium have a joint, supervised, large capacity parking lot where you can park your car.
Videos
Gardaland SEA LIFE Aquarium 2020 | 01:41
Gardaland SEA LIFE 10° AnniversarioGardaland SEA LIFE compie 10° anni! Vieni a scoprire il...
Gardaland Sea Life - Tour completoEccovi il tour completo dell'acquario di Gardaland,...