Description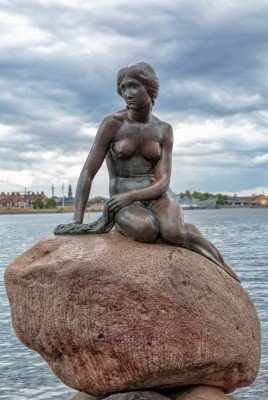 One of Copenhagen's most popular sights to visit is the Little Mermaid statue at the Langelinie pier. The bronze statue is about 125 cm tall (410 ft) and 175 kg heavy. Due to its size of a bit more than one metre, it's definitely won the competition for being one of the smallest landmarks worldwide. Meanwhile, the brownish shiny statue, placed on a reddish large stone, has become a Danish national symbol. It's been there, at the waterside promenade, from 23 Aug 1913, just at the port entrance of Copenhagen.
In the course of the past decades, the Little Mermaid has been vandalised several times. She's lost her head twice, once her arm and has even been doused with colour. Poor thing! The sitting mermaid was luckily restored each time and, if necessary, complemented by new material.
Historical Information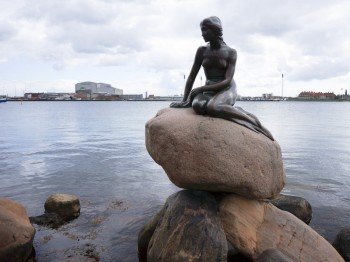 The Little Mermaid is derived from the same-named fairy-tale by the Danish author Hans-Christian Andersen. In his anthology "Fairy-tales for children", published in 1837, he tells the story of a beautiful, but unhappy mermaid who would give anything to be able to live on land. By an agreement between her and the sea witch, her innermost desires come true and she finally gets to live on land. She swaps her fin for two legs. Unfortunately, she loses the prince she once rescued from drowning and also loses her voice, remaining unable to speak. When the prince married another woman the mermaid sadly turned to sea foam, in the end.
Fini Henriques, a Danish composer, wrote the music for Andersen's fairy-tales in 1909. Already in December that year, the fairy-tale ballet "Little Mermaid" premiered at Copenhagen's Royal Theatre. Among those watching the performance, one would find the beer brewer Carl Jacobsen, the owner of Carlsberg brewery and Denmark's biggest art patron. He was fascinated by ballet to such an extent that he asked sculptor Edvard Eriksen (1876-1959) to build a little mermaid. The statue was inspired by ballerina Ellen Price who was then the lead dancer in ballet. She turned down the offer to stand naked before her sculptor. Unceremoniously, the Little Mermaid was modelled on Eriksen's wife. In 1911, the finished clay figure was cast in bronze and donated to the City of Copenhagen by Carl Jacobsen.
How to get there
The Little Mermaid statue is placed on a stone just at the port entrance of Copenhagen. In close proximity, you find the Kastellet of Copenhagen.
By car
Take motor ring 3 leading towards the city centre. From there, you keep on O2, taking you from both directions, north and south, to the statue. Close to the Kastellet you find car parks.
By public transport
There are various trains and trams calling at the station Østerport St. From here the Little Mermaid it's not very far.
Videos
Die Keine Meerjungfrau - Kopenhagen -... | 00:14
Kopenhagen Die kleine Meerjungfrau The...Der Kopenhagener Bildhauer Edvard Eriksen (1876–1959)...