Route description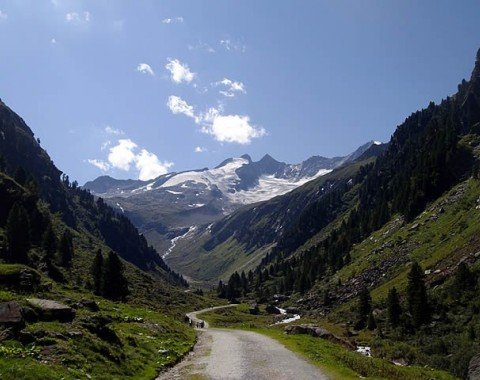 Starting at Alpengasthaus Finkau a broad road leads through an afforested valley to alp Trisselalm. Now follow the hiking trail alongside stream Wildgerlosbach to a small plain at the end of the valley. There you will find a cable car station of Materialseilbahn, which rides to hut Zittauer Hütte. A narrow path will guide you over a rocky fold slide and across a moraine tract towards the hut.
Interesting facts
You're traveling a distance of 4 miles on this strenuous trail. The hike is therefore not too long. The average length of all hikes in Tyrol is 9 miles.
You're facing an uphill climb of 914 vertical meters on this hike. The hike takes you to an elevation of 7654 ft.
You shouldn't forget to bring your hiking boots. There are some sections on the trail where sturdy footwear is required. There are places to buy beverages and food along the track. However it's always recommended to bring enough water and food along with you.
Highlights of the tour
Zittauer Hütte (2329m) is located on a ridge rasped plain by glacial ice, right next to lake Wildgerlossee. The great location right next to the lake, a beautiful view across the peaks of Reichenspitzgruppe, a hight of 3300m and the glaciers of Wildgerloskees turn this hike into a wonderful experience.
Equipment
We recommend strong footwear. The steep fold slide is secured by ropes.
Getting here
By car
Take A12 (inntalautobahn), exit at Wiesing and continue on B169 towards Achensee/Zilltertal (2nd exit within roundabout). Now follow that road towards Gerlospaß/Mitte and turn into Gerlosstraße/B165. Passed the lake turn left into Krimmler Landesstraße then turn onto Hinterwaldberg. Parking available at guesthouse Finkau.
The road towards Alpengasthaus Finkau leads alongside lake Durlassboden-Stausee. Parking available at the guesthouse.