Swimming Lake
Almost any water sports enthusiast can pursue their passion at lake Schladitzer Bucht. Choose from a wide range of numerous aquatic sports offers at the water sports centre. At the Haynaer Ufer, a Biedermeier beach brings a part of history back to life. Around the lake, you'll be able to visit sights on various cycling and hiking routes.
Changing room
Nudist - Area
Lawn for sunbathing
Things to do
Offers include taster courses in surfing, kiting and sailing. Furthermore, the diverse cycling and hiking paths around the lake invite you to do some sightseeing. Schladitzer See features four volley ball courts that can be used for tournaments as well.
Diving
Surf School
Sailing School
Fishing
Beach Volleyball
Bike trail
Other attractions:
Kite surfing, stand-up paddling, water fun park
Interesting facts
With an area of 544 acres, Lake Schladitzer Bucht is among the 10 largest Swimming Lakes / Beaches in Germany.
Lake Schladitzer Bucht is among the 3 best rated Swimming Lakes / Beaches in Germany.
The swimming lake / beach's average water temperature during the summer season is 69 °F. The swimming lake / beach is normally warmest during June with an average water temperature of 73 °F. See the currently warmest Swimming Lakes / Beaches in Germany.
The local lifeguard service Wasserwacht supervises and promotes safety and order at Lake Schladitzer Bucht.
You are hungry and thirsty? A restaurant and a kiosk provide you with meals and drinks.
This destination has got you covered providing a kids' playground and a water slide.
In case you are into camping, there is a campground almost within reach. Campfires are permitted with seasonal restrictions and in provided fire pits.
The nearby parking lot offers enough space for your car. Restrooms for both women and men are available at the Swimming Lake.
How to get there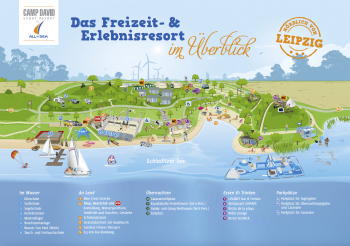 Find the lake on your GPS with one of the following addresses:
Schladitzer Bucht
Haynaer Strasse, 04519 Rackwitz
51.4358 12.3474
Güntheritzer Straße, 04519 Rackwitz.
Exit motorway A14 at Leipzig Mitte and turn onto B2 towards Delitzsch. Continue on B184 towards Delitzsch. Turn left onto Güntheritzer Str. at the traffic light by the supermarket. Follow the signs to Schladitzer Bucht.