Description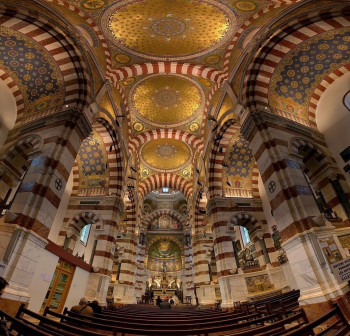 The Basilica of Notre-Dame de la Garde stands on a rocky plateau in Marseille. The church is reminiscent of a Roman-Byzantine architectural style due to its gold ornaments and mosaics.
The Basilica can be subdivided into two parts. In the bottom part there is the crypt, which is carved into the rock. And the other part is the basilica itself, which was built on top of this rock and is dedicated to the "Bonne Mère", the good mother. On the walls, one can see votive tablets and other donations from inhabitants of Marseilles regardless of their religious beliefs or affiliation. All donations tell a tale of Marseilles.
Visit the Basilica
From the esplanade in front of the basilica one enjoys a breath-taking view of Marseilles. The basilica is one of Marseilles' landmarks and is annually visited by approximately 2 million people.
On the third floor of the basilica, one can find a small restaurant, which is organised and led by female Donum Dei missionaries. It's quite an experience having one's meal here and at the same time enjoying a stunning view on Marseilles.
Historical Information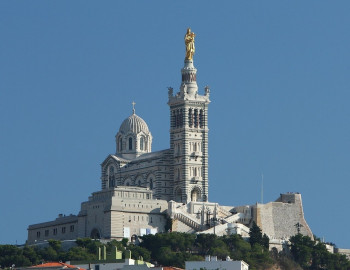 The place the Basilica Notre-Dame de la Garde was built on used to be a very important strategic point during the period of the Roman Empire. "La Garde" is the exact point that was once used for constructing guard towers and fortresses on. In 1852 the Basilica was built by Henry Espérandieu and has ever since not been architecturally altered. In the course of time, it has become a well-visited pilgrimage site and was thus elevated to a basilica minor in 1879.
How to get there
By bus
Take bus line 60 and get off at the first car park of the Notre-Dame basilica.
By tram/ train
Take the "petit train", which will call at the basilica.
By bike
At the church, one can rent bikes. This means you can easily cycle here.
By car
You can drive here with your own car too. There are parking facilities provided at the basilica that are free of charge.
Video
Notre-Dame de la Garde, Marseille | 03:02