Description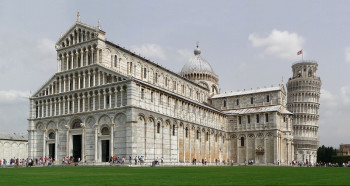 Dumo di Pisa is located on Piazza del Duomo the "Cathedral Square" of Pisa and owes its huge popularity around the world, to its leaning bell tower. The cathedral is actually called "Cathedral Santa Maria Assunta", was built in 1063 and can therefore be classified as Pisan Romantic.
The dome is 48m high (157ft), which is slightly shorter than the tower and the baptistery. Even if the cathedral was only completed in the 14th century you do not recognize a change in style. The cathedral's base is cruciform and served as a model for cathedrals in Siena and Florence. The front is completely made out of marble and shows many different unrelated symbols, which could be an indication for the origin of those pieces. The marble used to built the cathedral originates from cathedral buildings of conquered cities, where it was stolen and processed in the cathedral in Pisa.
The entry into the cathedral is free but there is a fee for the tower and the baptistery.
Historical Information
During the 16th century the cathedral was destroyed within a fire and had to be rebuilt in the 17th century. Only the pulpit survived because it was not in the cathedral at the time of the fire but was being restored.
How to get there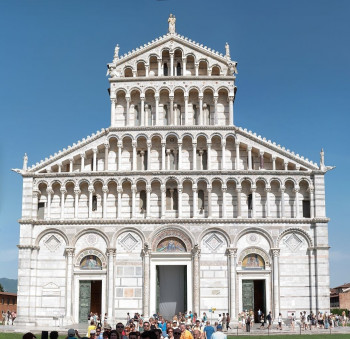 By public transport:
The cathedral is located at the central square Piazza die Miracoli. Easy to reach by bus. Take bus line 4 and exit at the station called Piazza Arcivescovado.
If you want to visit the cathedral at night you should take bus number 21 and get out at Piazza Manin.
By car:
Also by car it is easy to get there and parking is available at the parking lot Via Pietrasantina.
Videos
Piazza del Duomo, Pisa, Italy in 4K... | 05:40
Il Duomo di Pisaartesplorandochannel
900 anni della Dedicazione della...