Description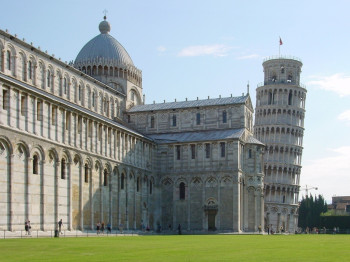 History
The Tower of Pisa is actually a campanile, a free-standing bell tower, originally planned for the adjacent cathedral. In 1173 the foundation stone was laid for the tower that would one day become world-famous.
During the construction of the building, there were first problems noticeable from the third floor on. The tower is built on a ground consisting of sandy-loam morass, which is why the tower consistently gives in to the weight of the tower. Through this specific condition of the soil, the construction of the tower was delayed and stopped for 100 years. The next four floors were built in a crooked way in order to stabilise the tower. After all difficulties, the tower was completed in 1372 and has ever since been tilted at an angle of 4 degrees.
The tower is about 55m (60yd) high and has a diameter of approximately 12m (13yd). It was planned to serve for two different functions. On the one hand, it was meant to accommodate the bells of the cathedral and on the other hand, it functioned as a refuge for the clergy in case of a threat. The tower could not fulfil any of its functions and purposes as it was assumed that the noise of the bells would expose the tower to the risk of a total collapse. As a consequence, the tower had remained closed to the public for a very long time. Nowadays, a number of up to 40 people are allowed to visit and be in the tower at the same time.
In the past, the tower was subject to many refurbishment measures to improve its stability. In 1998 some soil underneath the tower was partially removed to ensure the tilt angle was lowered at the other side, allowing the tower to gain more balance.
World heritage
Since 1987 the Tower of Pisa has been a listed UNESCO world heritage site in combination with the cathedral, the baptistery and the adjacent cemetery.
How to get there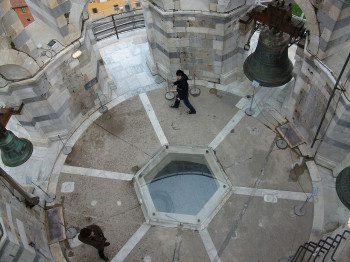 The Tower of Pisa is sited on the central square Piazza dei Miracoli, just next to the Cathedral of Pisa.
By bus
You can get here relatively easy by using bus line 4 and get off at the stop "Piazza Arcivescovado". Should you be in the mood to come here at night, bus line 21 is the best choice. Just make sure you get off at the station "Piazza Manin".
By car
Only a 5 minutes walk away from the cathedral square you can leave your car at the parking facility "Via Pietrasantina".
Video
The Leaning Tower Of Pisa: Italy's... | 07:24