Description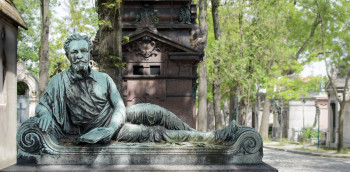 Père Lachaise is not only the largest cemetery in the French capital of Paris, but also the most famous cemetery located in the 20th arrondissement of the city. More of a sculpture garden than a burial ground, a stroll down its tree-lined paths is like walking through history.
From Frederic Chopin to Oscar Wilde
Père Lachaise was established in 1804 and is notable for being the first garden cemetery. Nowadays, it is still one of the most visited sights in Paris, attracting around two million visitors every year. Many famous personalities found their final resting places here, including the master of solo piano Frederic Chopin, the singer Jim Morrison, and one of the greatest writers Oscar Wilde, which is why you can see many fans traveling from all over the world to take a look at their past heroes' graves. With so many famous people interred inside, it is clear that Père Lachaise is one of the most visited cemeteries in the world, which showcases varying funerary art styles.
Funerals Now and Then
In May 1871, nearly 150 members of the Paris Commune were executed and buried in a mass grave at the "Mur de Fédérés", the Wall of the Federated, which is located in the southern part of the cemetery. However, funerals still take place at Père Lachaise these days. Whoever would want to have their final resting place here, must be a permanent resident of Paris and meet quite a number of other criteria.
How to get there
Père Lachaise Cemetery's main entrance is on the Boulevard de Ménilmontant, convenient to the Philippe-Auguste station of the Paris Métro's Line 2. Other metro stations include Père Lachaise (Line 2 and 3) and Gambetta (Line 3).
Videos
Père Lachaise Cemetery in Paris, France | 21:07
Pere Lachaise Cemetery in ParisGrave site of Jim Morrison and many other notables,...
Ray Manzarek and Robby Krieger at Jim...Ray Manzarek and Robby Krieger at Jim Morrison's...