Description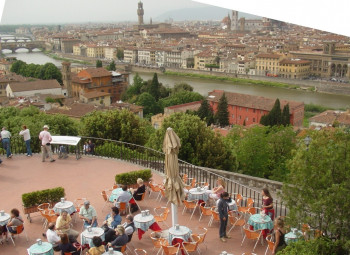 The square today
On the square, there are several replicas of statues by Michelangelo exhibited. The square has meanwhile become quite touristy. Due to it being the hub for coaches, there are numerous snack bars and souvenir shops. At the bottom of the square, one finds a pavilion by Poggi built in a classical architectural style, which was originally planned as a Michelangelo museum, but is now used as a panorama restaurant. The view one can enjoy from the Piazzale Michelangelo is a popular image for postcards and photographs.
San Miniato al Monte
The San Miniato al Monte church is located not far from the Piazzale Michelangelo. It is another viewpoint in Florence offering a fantastic panorama.
Historical Information
The Piazzale Michelangelo is a magnificent viewpoint in the city of Florence. It was designed and built by the Italian architect Giuseppe Poggi. At that time, back in 1865, while the square was undergoing a planning, construction and renovation process, Florence temporarily used to be the capital of Italy. An 8 km (5 mi) long viewing road was meant to be built up to the San Miniato church.
How to get there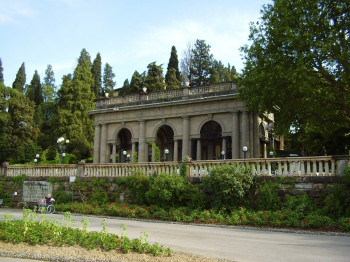 On foot
Via the Ponte Vecchio one can get to the Piazzale Michelangelo. Walking here will take you along the panorama street until you arrive at the square. Both the panorama street and the Piazzale Michelangelo were built by the very same architect, Giuseppe Poggi.
By bus
You can come here as well by using either bus line 12 or 13.
By car
You can drive up to the viewing platform, where you will find sufficient car parks to leave your car in.
Videos
Timelapse Firenze | Piazzale... | 00:43
Florence, Italy: Church of San Miniato and...More info about travel to Florence:...
Piazzale Michelangelo FlorenceAnother of the Top 5 Things to do in Florence, Piazzale...