Description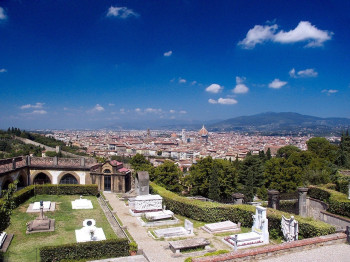 Romanesque architecture and a great view of Florence:
The San Miniato al Monte (St. Minias on the Mountain) is a basilica that is located on a hill above the city of Florence. The basilica is often to be mentioned as one of the most beautiful churches throughout all of Italy and impresses its visitors with its Romanesque architecture and its play of colors. The church is frequently visited for a great view of the city but is worth a visit itself, especially in combination with the basilica's cemetery.
Benedictine monastery:
Meanwhile, the basilica is connected with a Benedictine monastery. The friars even sell honey and herbal tea out of their own production in a shop nearby San Miniato al Monte.
Historical Information
Legend has it, that the churches name giver, the holy Minias, after he was beheaded by the Emperor Decius in the year 250 A.D., lift up his own head and then ran up the hill path onto the position where the basilica is situated today and died only afterwards. He is considered to be one of the first martyrs of the city of Florence.
First, there was a shrine built on the grave of the holy Minias, the chapel was to follow later on. It is not quite of certainty when the construction process of the church began but it was completed in 1207, as an inscription suggests.
The church is surrounded by a defense wall, which was built under the leadership of Michelangelo during a siege, to protect the basilica. During the fatal cholera outbreak in 1854 the city administration authorized burials within the defense wall which would evolve into the basilica's famous cemetery where many Italian greats of arts and culture amongst rich Italian families are buried.
How to get there
With public transportation:
The San Miniato al Monte is only a few steps away from the Piazza Michelangelo. The basilica is located on the hill above the Piazza and is reachable whilst coming up the stairs. You can also take the bus lines 12 or 13 directly to the basilica.
Videos
San Miniato al Monte | 04:29
Firenze - Basilica di San Miniato al MonteLa Basilica abbazia di San Miniato al Monte si trova in...
Mille anni di San Miniato al Monte, FirenzeSono passati 1000 anni da quando il vescovo fiorentino...