Description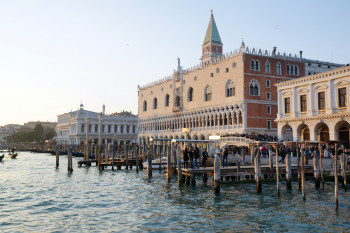 The palace is already impressive through its outward appearance, but the splendidly furnished rooms inside are even more fascinating. The ceilings captivate the visitor with artful designs and authentic stucco. The council hall is a further highlight with its windows offering a view towards the lagoon and the courthouse, which has the oil painting "Il Paradiso" by Jacopo Tintoretto hanging on its back wall.
The Bridge of Sighs and the jail
The famous Bridge of Sighs leads to a very special part of the Palazzo Ducale: its jail. Some of the prison cells were successfully preserved. The "pozzi", the so-called "wells" were usually flooded, and other cells that contained plumb were called "piombi" and had an almost intolerable atmosphere during the hot season. The probably most infamous prisoner of these plumb cells was Giacomo Casanova.
Historical Information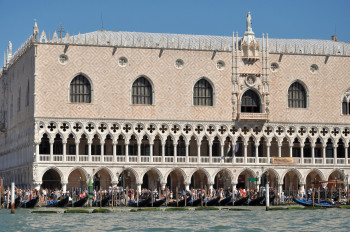 The Doge's Palace once used to be the centre of power in the Republic of Venice. It was both the courthouse and government building as well as the residence of the Doge. Between 679 and 1797 the city of Venice had seen 120 Doges residing here. During the early years of the republic the Doge was elected by the public assembly, which traditionally had taken place in the palace itself. Later, the Great Council, being formed by the members of the government, assembled here.
In a long 9th century the palace, built out of wood, was entirely destroyed by fire several times. Thanks to its crucial and important role in the Republic of Venice it was always reconstructed, rebuilt and enhanced by numerous architects. Around 1419 the palace was given the design it still has today. It is one of the most important secular buildings of the Gothic period and a patchwork of various architectural styles. One can clearly see the transition from Renaissance to Gothic elements of the building as well as occasional oriental bits and pieces. Impressively constructed, the Porta della Carta forms the passage to the inner courtyard of the palace and directly connects to St. Mark's Basilica. On a pedestal of the gate, one can see a statue modelled on the Doge Francesco Foscari kneeling in front a winged lion. Symbolically speaking, the Doge is merely a servant of the Republic (depicted as the lion) and its ruler. The interior courtyard, which then used to be freely accessible to members of the public, was formerly used for coronation ceremonies of the doges, festivities, official acts as well as for the annual bull-baiting.
How to get there
By public transport
The lines 1 or 2 will directly take you to St. Mark's Square. You just need to get off at either of the two stops: "Vallaresso" or "San Zaccaria".
Video
Scopri Palazzo Ducale / Discover... | 02:27