Route description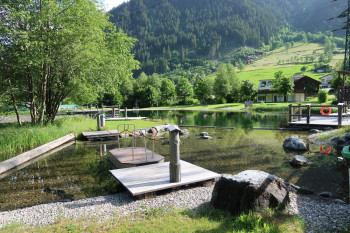 Now this is truly a trip for the whole family. Not only a great bike trail but also many opportunities to jump into a lake and do some laps.
Starting point is the park Montafon in Tschagguns. From there take the bike trail into the Hochmontafon. In St. Gallenkirch you will first pass the swimming pool called "Aquarena", then continue further to Gaschurn. In Gaschurn you have the choice between the swimming pools Mountainbeach and Partenen.
Within the town center of Partenen, where the mountain trail Silbretta starts, stands a museum, which you are welcome to visit in order to balance physical activity and cultural education.
To get back take the trail along the river Ill, that way you will pass the alpine pool Montafon, the last option to take a swim.
Where to eat
There is a restaurant in each pool you pass except the pool Pertenen, which only has a kiosk.
Interesting facts
With an overall length of 22 miles the bike trail is among the 15 longest bike Trails in Austria available on TouriSpo.
You're facing an uphill climb of 557 vertical meters on this bike trail. The highest point of the track is 3442 ft above sea level.
Don't hesitate to take your kids along on this easy bike Trails.
There are places to buy beverages and food along the track. However it's always recommended to bring enough water and food along with you.
Highlights of the tour
You will pass four different pools along the way to take a swim.
Aquarena in St. Gallen:
Aquarena is open throughout the year. It offers both indoor and outdoor pools. All pools are heated. Moreover Aquarena is equipped with a climbing net, a four lane slide and a lawn for sunbathing. Children can enjoy the children's pool, various toys, table-tennis and pinball.
Aquarena is open daily between 9.30 am - 8 pm.
Mountainbeach in Gaschurn:
Mountainbeach is an outdoor pool and only open during summer time. Many attractions like austria's first air mattress rafting line, a bouncy castle, a children's pool, wooden diving platforms, a beach volleyball court, a ping-pong table, a chain bridge with a ferryboat, slides, a playground and many other things are provided. But also silence areas and lawns are offered.
Mountainbeach is open throughout july and august between 9 am – 7 pm. Off-season between 12 – 6 pm during the week and 9am – 7 pm on weekends.
Outdoor pool Partenen:
Partenen is a small heated outdoor pool surrounded by an amazing mountain panorama. Besides it offers a special children's pool, a kiosk and a lawn.
The pool is open daily between 10 am – 7 pm.
Alpine pool Montafon:
Montafon is the region's largest pool. It offers a natural bathing pond with a non-swimmer area, 50 m laps, a 25 m sports pool and a diving rock. Beyond that there is a children's pool with integraded water fountain, flow passage, double wave slide and a 70 m long tube slide. For the youngest there is a Bambini- pool with a special mother-child area. Parents can relax in one of the beach chairs provided while children get out their energy.
The outdoor pool is open daily throughout summer, between 9 am – 8 pm.
Furthermore the tour offers a cultural highlight namely "energie.raum Patenen", which is a combination of exhibition and museum and explains the region's power industy for both adults and children.
Getting here
By car:
Tschagguns is easy to reach via B188. In Schruns-Tschagguns turn into Schwimmbadstraße and Montafon park, where the tour starts will be to your right.