Route description
The short and easy route to Grótta and back is ideal for those who want to explore the Icelandic capital by bike. If you start in downtown Reykjavík, the tour will be about 15 kilometers long. Plan two hours for your cycle and to enjoy the beautiful nature that surrounds you.
The bike tour begins in the heart of Reykjavík and goes to Grótta, a gorgeous stretch of coast located at the tip of the Seltjarnarnes peninsula. The northern part of the peninsula is a public parkand nature reserve. Grótta is, among other things, known for its manifold bird life. More than one hundred species of birds live here. From the old lighthouse, you have a wonderful view over the surrounding landscape, for example over the Snæfellsjökull glacier, which rises up far back at the horizon.
On the way back from Grótta, the bike path follows the Ægissíða coast line back to the city centre.
The tour is mostly on flat, tarred roads through the quiet, untouched nature surrounding Reykjavík. Cycling this tour during the midnight sun is particularly nice. This spectacular phenomenon, however, only happens in Iceland during the summer months.
Where to eat
Reykjavík city centre, the starting point and end of your short bike tour, offers many restaurants and bars for getting a bite to eat.
Highlights of the tour
Regarded as the highlights of the bike tour are the versatile world of birds, the beautiful nature and the wonderful views over the surrounding of Reykjavík.
Videos
Grótta Lighthouse, Reykjavik,... | 00:43
Drone flight over Grótta, Reykjavík,...Just playing around with my Mavic Pro drone at Grótta at...
Variations
If you want you can do a little detour on your way back and visit the geothermal public bathing beach Nauthólsvík.
Getting here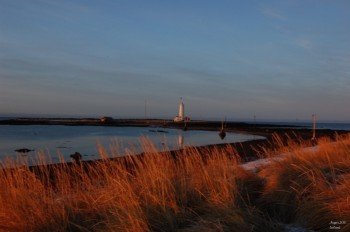 Many travel agencies in Iceland also offer this route as a guided tour. These tours start at the Icelandic Travel Market Tourist Information Center, in the city center of Reykjavík. You can of course start your bike tour to Grótta from any other point downtown.