Route description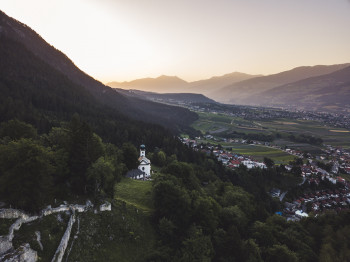 A hike filled wih variety taking you through meadows and forests from Absam to the Hungerburg. Via a meadow pathway past the Thaur Mure, through the Kapons section of Thaur up to the Romedius chapel above Thaur and to the castle ruins.Passing the castle courtyard, we will come to the Adolf Pichler Springs, continuing through the forest to the Garzanhof and the Rechenhof inn (ca. 1,5 - 2 h). From here, we descend to Rum (for the bus to Absam / Hall). Or we continue on through a forest of spruce and beech to the Hungerburg. Take the new Hungerburg funicular to Innsbruck, the Bus to Hall.
Interesting facts
You're traveling a distance of 6 miles on this easy trail. The hike is therefore not too long. The average length of all hikes in Tyrol is 9 miles.
The hike is one of the family friendly trails in the region. What's even better: You can also bring the family's best friend on this dog friendly hike. (See all dog friendly hikes in Tyrol.)
In case of good weather conditions, the hike can also be done without bringing your hiking boots. There are places to buy beverages and food along the track. However it's always recommended to bring enough water and food along with you.