Swimming Lake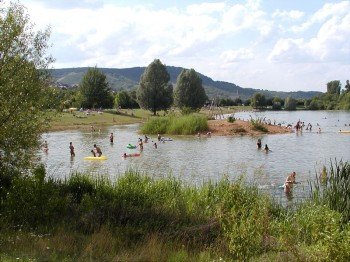 The Erlabrunner Badesee is located about 15 minutes by car from Würzburg and offers everything you could wish for a day at the lake on an area of about 19 hectares. There is something for young and old on the very well-kept complex.
The area to the bathing lake is open all year round. Only when the lake is frozen, the area remains closed for safety reasons.
Admission is free for all.
Things to do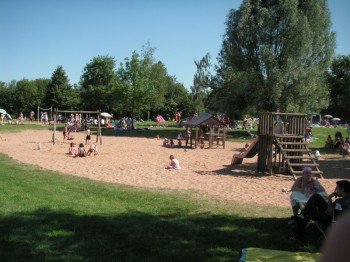 At the Erlabrunner bathing lake you can play beach volleyball or table tennis. There is also a children's playground and a cable car that leads to an island in the lake. Especially for the little bathers this is a lot of fun. It is allowed to barbecue on the barbecue areas laid out. And thus nothing stands in the way of a beautiful day in the sun.
Interesting facts
There is a local lifeguard service at Bathing lake Erlabrunn.
Grab something to eat and drink at the kiosk and be delighted by the friendly service.
Families will love the nearby playground, ensuring some quality time for the parents and activity time for their kids.
There are numerous parking facilities nearby. Restrooms where you may also get changed are available at the Swimming Lake.
How to get there
From Würzburg by car
On the left side of the Main you follow the St2300 to Zell. You pass Zell and the next village Margetshöchheim and continue directly to the recreation area at the big and small Erlabrunner bathing lake. The two bathing lakes are then very well signposted and cannot be missed.