Swimming Lake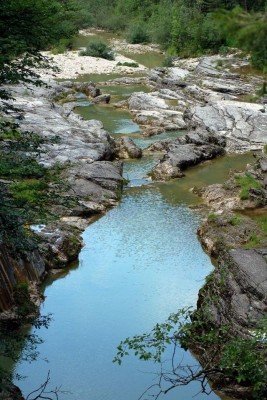 The Felsenbad, located at the entrance to the Strüblweiher reservoir in Faistenau, is one of the very special natural monuments in the Salzkammergut. The rocky ground is characterised by various grooves and ridges that have been formed by the washing away of water, ice and debris over time.
The rock bath consists of several small "pools", which invite to a refreshing bath on hot summer days. For those seeking peace and quiet and relaxation, the Felsenbad is an absolute refuge in the midst of nature. Therefore there are no parking lots or sanitary facilities.
The rock bath is accessible at any time. Admission is free.
Things to do
It is worth combining the excursion to the Almbach rock bath with a short hike or bicycle tour. The paths lead directly past the Felsenbad. Worthwhile are for example the Kugelbergrundwanderung, which branches off to the Felsenbad, or the Plaik Wanderung, which takes you directly to the Felsenbad. Cyclists can, for example, take the Strubklamm route.
At the Felsenbad itself there is no need for a lot of leisure activities - the Felsenlandschaft is a real adventure playground for young and old visitors. Besides, you can grill here. So nothing stands in the way of a great bathing day including a cosy picnic in the middle of nature.
Interesting facts
The swimming lake / beach's average water temperature during the summer season is 67 °F (currently: 68 °F). The swimming lake / beach is normally warmest during July with an average water temperature of 70 °F. See the currently warmest Swimming Lakes / Beaches in Austria.
It's ok to bring your best friend to this dog friendly swimming lake.
You are in the campfire mood? Campfires are permitted at several spots around the Swimming Lake.
How to get there
By car:
Those arriving via the A1 Westautobahn leave it at the Thalgau exit and follow the B 158 from Hof near Salzburg to the Baderluck roundabout. There you take the first exit into Hinterseestraße and shortly after you reach the village Faistenau.
By public transport:
Post buses run regularly from Salzburg main station to Faistenau.