The prospect of visiting a museum makes you think of dusty paintings and deadly boredom? You have probably never visited any of the museums in this list! Prostitutes, porn, sex machines, or ancient vibrators – if you are already blushing better stop reading here, because we are about to present to you the most exciting museums in the world.
Museum of Sex in New York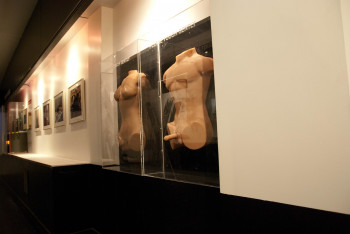 Walk along Manhattan's Fifth Avenue and you will find a museum with the following sign at the entrance: "Please do not touch, lick, stroke or mount the exhibits." For good reason - they don't want visitors to get any ideas.
Museum of Sex in New York holds over 15,000 exhibits, including Japanese Shunga prints, vintage condoms, vibrators, or men's magazines. Despite the sign at the entrance, there are actually some exhibits that are explicitly meant to be touched. Special exhibitions on topics such as hardcore pornography, burlesque art, or sex machines can make a visit even more exciting.
Amsterdam: Hotspot for Erotic Tourism

There is no other place with such high density of sensual attractions. Amsterdam offers you three different erotic museums to discover on your next city trip. Erotic Museum Amsterdam is located at an old warehouse amid the red light district. Its main subject is true to its location: besides erotic photographs, or prostitutes of the famous Casa Rosso Live Show, the museum also displays "Snow White and the Seven Dwarfs" - albeit in a version that is not suitable for children.
Sex museum Venustempel at Damrak is the world's oldest sex museum. It depicts eroticism and sensuality from different perspectives and in their respective historic context. The 17th century building is home to an exciting maze of rooms and corridors that is full of surprises for its visitors.
Red Light Secrets – Museum of Prostitution is the only museum in the world that is dedicated to prostitution. Located inside a former brothel, it allowes for a realistic glance into the day-to-day life of sex workers. You have always wondered what it was like to sit on a stool, in deshabille, waiting for the next customer? If you want to get impressions you would usually only get at a real brothel, Red Light Secrets is the place to go.
Erotic Heritage Museum Las Vegas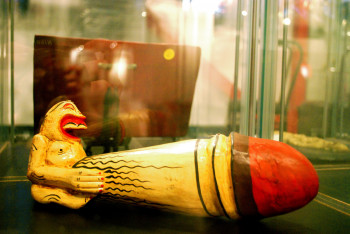 The largest erotics museum in the world can be found – surprise! - in Las Vegas. The museum sees itself as heir to the American sexual revolution, and wants its visitors to understand sexual pleasure and its depiction as natural aspects of human experience. Erotic Heritage Museum includes a vast range of topics, such as a collection of articles on celebrity sex scandals and teacher student liaisons, the history of peep show, or "Sex in Space".
The museum originates in a surprising cooperation between pastor Ted McIlvenna and pornographer Harry Mohney. They wanted to create a taboo-free space for erotic artefacts.
Erotic Museum Barcelona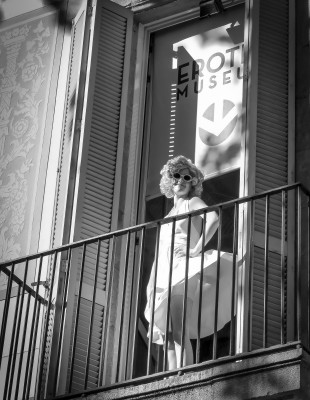 Inside one of the old houses at Rambla, one of the city's most famous historic streets, you can find Erotic Museum Barcelona. Rather fittingly, the building's street number is 69 – a fact the museum readily makes use of. The outside of the museum can easily be distinguished by large posters featuring the ambiguous number. You also recognise the museum by looking up at the balcony, where Marylin Monroe is often seen waving down. She offers guided tours through the exhibitions.
Erotic Museum Barcelona contains over 800 exhibits, including works of art, sculptures, or inventions. Topics range from early civilisations and Kama Sutra to King Alfonso XIII's private video collection, fetish, and SM. A visit here reaches its "climax" at the so called Room of Records – we will leave its content to your imagination for now.
Icelandic Phallological Museum in Reykjavík
Yes, you've read it correctly – there is a museum for penises. Where? At Iceland's capital Reykjavík. Over 200 body parts of nearly all of Iceland's marine and terrestrial mammals are at display here. The collection includes the manhood of various whale species, bears, seals, walruses, and many more. In 2011, the Icelandic Phallological Museum added a human sample to their collection.
As a counterpart to the penis museum, the International Virtual Vaginamuseum was founded in 2014. The virtual gallery gives interesting background information on the female sex. According to founder Kerstin Rajnar, the museum's purpose is to connote the term 'vagina' more positively than it tends to be the case in pornography or common speech.
Good Vibrations Antique Vibrator Museum in San Francisco
Even those who are more experienced with sex toys will have to think twice about some of Good Vibrations Antique Vibrator Museum's oldest exhibits. The first vibrator was developped in 1869, by an American doctor. It was supposed to cure women who suffered from hysteria (quite a logical deduction at the time, considering the moment of deep relaxation following its use).
As is customary for museums, Good Vibrations Antique Vibrator Museum also has its own shop. Contrary to the exhibition, you will find highly modern versions of vibrators of all kinds here.
Sex Machines Museum in Prague
For those who think simple vibrators are boring, Prague's Sex Machines Museum might be a better fit. From revolving saltires to electric and non-electric stimulation devices and chastity belts, you will find all sorts of appliances here.
Right as you enter you walk into a little cinema showing explicit content from the early days of porn films. Admittedly, the black and white clips are more likely to excite laughter than erotic desire today. Nevertheless, a visit to Sex Machine Museum Prague is certainly not for the uptight.
World Erotic Art Museum Miami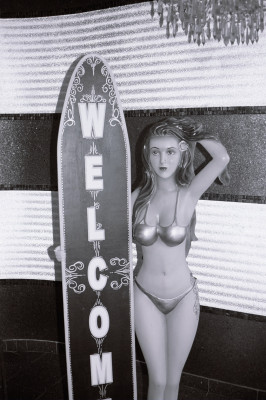 World Erotic Art Museum in Miami is the United States' only museum dedicated solely to erotic art. Hence, WEAM is one of the world's most renowned museums of its kind. The collection currently includes over 4,000 international pieces, from 300 BC up to modern-day exhibits. They include pieces by Picasso, as well as curiosities such as the phallus from Stanley Kubrick's Clockwork Orange.
When collector Naomi Wilzig founded the museum in 2005, she had to face great reservations from local citizens as well as politicians. Nowadays the museum is an inherent part of the city's art scene.
Museum of Erotics and Mythology Brussels
At the Museum of Erotics and Mythology in Brussels, you can discover the history of erotic art from ancient times to the present day. The collection is said to be one of the most extensive in Europe. It includes rare paintings, antiquities, sculptures, graphics, and various curiosities from different cultures.
What does erotism have to do with mythology? The existence of a term for sensual desire goes back to the Greek, more precisely the Greek god Eros, son of love godess Aphrodite. In Greek mythology, he embodies desire and hence gave to erotism its name.
Erotikaland in Brazil: An Adult Playground
You prefer going to amusement parks rather than visiting museums? Alright, we have a hot tip for you as well: Erotikaland, the first adult amusement park, is due to open in Brazil this year. In Piraciacaba, a two hour drive from Sao Paulo, you will soon be able to ride genital shaped rollercoasters, jump into the nudist swimming pool, or enjoy a film at the 7D cinema (including vibrating seats of course). And no, we're not kidding about any of this.
According to the initiators, sex will not be allowed on the park premises. Rather convenient, that a new motel is built right next to the park. Furthermore, the claim that Erotikaland's aim is not to become a hotbed of sin. It is rather to create new jobs, promote awareness about safe sex, and teach visitors about history of sexuality. Anyway, if you decide to venture into the new attraction, you should definitely not be prude.