Description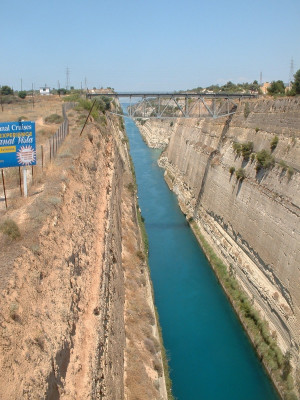 The Corinth Canal is an artificially constructed maritime thoroughfare for ships between mainland Greek and Peloponnese, a large Greek peninsula and geographic region.
Architecture
The canal is about 6.3km (3.9mi) long and on the waterline 24m (26yd) wide. In order to be able to realise the project, it was necessary to trench into the solid rock 84m (92yd) deep. Despite of this, the fairway nowadays is only 8m (9yd) deep. This was only possible through the invention of explosives.
The canal today
Nowadays, the canal has lost on economic relevance, as many modern ships are way too large for the comparatively small fairway. Meanwhile, the canal is usually used by both private and tourist boats. The view one has while passing through the canal is breath-taking. At its entrance as well as its exit, the canal is facilitated with lowerable bridges, which will be lowered whenever a ship or boat needs to pass through.
Another perhaps even more exciting way to explore the Corinth Canal is to bungee-jump from the cliff. Good luck!
Historical Information
In the 6th century, the first plans were made to built the canal. Unfortunately, the plans could not be realised as the technical possibilities were not sufficiently advanced then. The plans were quickly discarded as contemporary machinery failed to trench into hard rock. Towards the end of the 19th century, the idea to built a canal came up again. Due to the industrialisation, technical know-how was given now. In 1893 the Corinth Canal was completed. Fortunately, from now on ships did not have to circle the entire peninsula, but just slip through the newly built canal. This had a significantly positive effect on commercial trade.
How to get there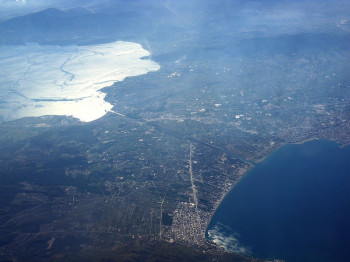 By car
The canal is located approximately 100km (62mi) away from Athens and Patras. If you travel here by car, use the designated motorways and federal highways leading towards the Corinth Canal. The waterway can be crossed via numerous bridges. There are sufficient parking facilities provided along the cliffs.
Videos
Corinth Canal Greece | 04:44
The most expensive canal in the world? The...We finally make it through the amazing Corinth Canal and...