Description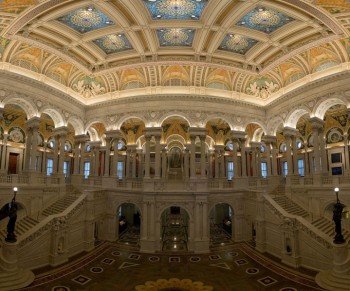 The Thomas Jefferson Building
With more than 155 million items, the Library of Congress is one of the biggest libraries in the world. It currently occupies three buildings on Capitol Hill. If you are in Washington, you should take the chance to visit one of them: Thomas Jefferson Building. It was build in the style of the Renaissance and is considered one of the most beautiful buildings in the US.
Exhibition
The building was constructed in 1897. You can either visit it yourself or join a guided one-hour tour. The entrance hall is already astonishing. It is elaborately decorated and accommodates artworks from nearly 50 American painters and sculptors that are concerned with the topic of learning.
Visitors can also look forward to temporary and permanent exhibitions. Admire historic drafts of the Declaration of Independence, the map that first used the term "America" for the New World and the Gutenberg Bible.
The highlight of the Thomas Jefferson Building is the Main Reading Room. You can take a look inside from a gallery. The dome of 49m-height is accompanied with eight big marble columns. On top of them, there a statues that symbolize virtues of civilized life like poetry, philosophy and science.
How to get there
The Thomas Jefferson Building is opposite the Capitol (10 First Street, SE).
By public transport:
Close to the Library of Congress are two Metro Stations. You can either exit at Capitol South (Blue/Orange line - a 2 block walk) or Union Station (Red line - a half mile walk).