Description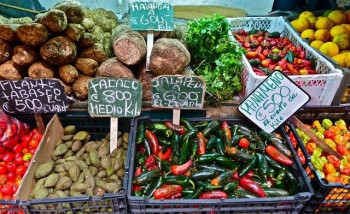 If you decide to visit San José, the capital of Costa Rica, you definitely need to make a stop at Mercado Central, the biggest market in the city. The market is a must-see and attracts hundreds of visitors daily. Ever since 1880 over 200 small stores, sale booths and small restaurants called "Sodas" can be found in the narrow alleyways.
All kinds of colorful goods
Stroll through the folksy, tight alleys and lose yourself in the bright colors and delicious smells. Apart from an extremely big selection of meats, fish, fruits, vegetables and coffee you will find products like snakeskin boots, cowboy saddles, herbal remedies, flowers, souvenirs and locally crafted goods. How great would an authentic coffee bean from Costa Rica be as a gift for those loved ones at home?
An indulgence for all your senses
If you do need a break from all the walking, you should stop at a small cafe or "soda" in the city center. The typical Costa Rican dishes are one of the best parts about the market. Already when strolling through the small stores you are surrounded by delicious smells of the amazing food. Here, the scrumptious, steaming dishes are served in big bowls. Costa Rica is especially known for "Casados" (rice, beans, salad, cheese, tortillas and meat) as well as "Gallo Pinto" (rice with beans) and the tasty, sweet drink "Agua Dulce" (water with Costa Rican rock candy).
A Costa Rican way of life
The Mercado Central is so much more than just a market. It is more like its own little world. Starting sunrise until sunset people from everywhere come here to shop, eat, drink and simply enjoy life. Nowhere else in the city can you experience the Costa Rican way of life like at Mercado Central. Immerge into the culture and history of Costa Rica and enjoy this once in a lifetime atmosphere. Many locals come here everyday to buy groceries, enjoy the company of other people and discuss the current events.
A labyrinth of alleyways
Even though the market was forced to move many times since its emergence 1880, the typical labyrinth style structure never vanished. If you do not pay close attention and let yourself be too distracted by the colorful ambiance of the market, you will get lost quickly. There are however different entrances and exits, which all lead to main streets around the Mercado Central.
About two block further resides the Mercado Borbón, which is definitely worth a visit as well. This market is much smaller and offers mostly perishable food. Here, you will find butchers, fishmongers and fruit sellers.
How to get there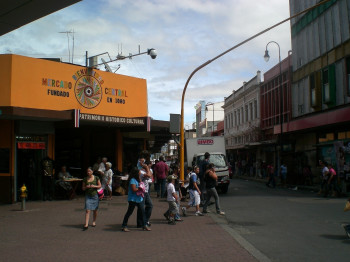 The Market is rather large and takes up an entire block of space alongside the Avenida Central and lies about 259 meters (289 yd) from the Parque Central.
By car
There are different sizes of streets which lead into the city center of San José. It is best to drive via Ringstreet 39 onto the Highway No. 2. In the city center you turn for example on Paseo Rubén Darío, which merges directly into Avenida Central.
Public transportation
Only a couple of hundred yards away from Mercado Central is the train station "Estación de Ferrocarril al Atlántico" and also a couple of bus stations.