Description
Milford Sound, as part of the Fiordland National Park, is a listed UNESCO world natural heritage site – deservedly so! Get ready to experience a breath-taking adventure in a worldwide unique natural surrounding that instantly draws you in. With a total of 10 mi (16 km), the fiord cuts 440 yd (400 m) deep into the country, giving us an exhilarating spectacle of nature to the pleasure of any visitor.
Exploring Milford Sound
There are many ways to explore Milford Sound and experience the stunning natural surroundings.
Sitting in a boat, you have a magnificent view on the fascinating heights of mountain summits and steep rock faces miraculously arising from the very depths of the fiord. Go on and watch the thunderous waterfall reaching 330 ft (100 m) of free fall. To get a closer look at the beautiful nature here, you might want to participate in a kayak tour. Paddle your way through a gorge surrounded by 3,940 ft (1,200 m) high rocks – and all of it accompanied by seals, penguins and dolphins. What a wonderful world!
You have a magnificent view from the air, too. Instead of sightseeing, we very much encourage you to opt for "flightseeing". It's worth trying as it will surely give you an unforgettable memory and also just be a memorable experience.
Alternatively, explore the untouched wilderness of New Zealand's Fiordland on foot. Hike through slopes covered by dense tropical forests and discover its diverse flora and fauna. If you listen carefully, you may hear the sounds of rare bird species that you possibly won't hear anywhere else. In the town of Milford Sound, you will find plenty of offers to pick your personal adventure from you wish to undertake on-site.
At Milford Sound, nature can be experienced at its best. Not only will you get to see the impressive mountain world, within which the 5,550 ft (1,692 m) high Mitre Peak outshines every other mountain, but also stunning waterfalls and a rainforest rich in species.
The unique underwater world on-site holds some fascinating treasures for you. That's why a visit to the underwater observatory in Milford is highly recommendable. If you're into diving, you shouldn't miss participating in a guided dive when here. You get to explore up to 200 year old black corals, fragile anemones and starfish with 11 arms!
Historical Information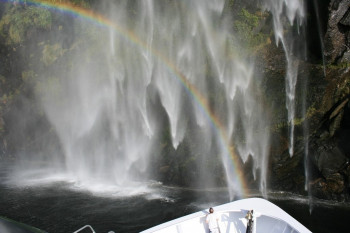 Milford Sound was formed by glacial movement during ice ages. It is widely believed that the Maori were the first to discover this very fiord thousand years ago, which is nowadays known to us as Milford Sound. Its original Maori name was Piopiotahi, as legend has it. So, while the fiord had been known to the Maori for a long time, European settlers were to discover it only in the beginning of the 19th century. Captain John Grono discovered the fiord in 1812 and gave it the name Milford Haven, the name of its Welsh home town. Years later, the fiord's name was changed by Captain John Lort Stokes to Milford Sound.
The natural beauty of Milford Sound had not remained unknown for long. In 1888, the Mackinnon Pass was discovered, which quickly became a part of the Milford Track, one of the most beautiful hiking path in the world.
After 19 years of construction work, the Homer Tunnel was completed in 1954. Ever since, Milford Sound has been accessible by cars and has this way become ever more popular as tourist attraction.
Rainy climate and special underwater world
Due to it being located alongside the Alps of New Zealand, Milford Sound ranges among the top league of most rainy areas in the world. The orographic rainfall causes an average amount of 7,000 mm per year. As a result of 180 days of rain, an underwater world of the fiord has evolved that is utterly fascinating and, above all, rich in species. The rainwater, while coming down onto the rainforest and falling to the ground, soaks up vegetable tannins, which add the particular dark colour to the water. The upper dark layer of the water blocks the daylight and, as a consequence, allows deep sea life to emerge in relatively shallow waters – what a phenomenon!
How to get there
Milford Sound is located alongside the west coast of New Zealand's Southern Alps. The fiord reaches a length of approximately 10 mi (16 km). It is part of New Zealand's Fiordland National Park and a UNESCO world natural heritage site. But even the journey is already quite a natural spectacle. You drive through unimaginably beautiful landscapes and beyond each corner lies a new and fascinating discovery with breathtaking views throughout.
By car
Since 1954, the year of opening of the Homer Tunnel, Milford Sound has been accessible for cars. From Queenstown it's a 183 mi (295 km) long journey, keeping you about 4 hours on the road. You first drive on the SH 6 along Lake Wakatipu side towards the south until you get to the SH 94 via the SH 97, leading westwards.
From Te Anau on you continue on the SH 94, the Milford Highway, but this time in the northern direction. From here Te Anau is only 75 mi (121 km) away, which means that you have two and a half hours of driving ahead of you.
From Invercargrill you keep driving on the SH 6 for about 50 mi (80 km) northwards until you get to Milford Sound via the SH 94 and Te Anau.
In total, the distance is about 170 mi (274 km) long and should take about three and a half hours by car from Invercargill. Many visitors take several breaks to fully enjoy the beauty of Milford Sound. Some first drive to Te Anau, stay overnight and then carry on to Milford Sound.
By plane
Milford Sound only has a small airport (Milford Sound Airport). There are (usually) daily operating flights to Queenstown, Wanaka and Te Anau.
By coach
Several coach operators, such as InterCity Coachlines, offer coach rides to Milford Sound. The InterCity coaches depart from Queenstown and Te Anau.
On foot
Hikers usually take another route to Milford Sound. They keep hiking along the Milford Track – without a doubt one of the most beautiful hiking paths worldwide. The track starts at the northern edge of Lake Te Anau and takes the hikers through remote and stunning natural landscapes of New Zealand's South Island up to Sandfly Point. On-site, you have the possibility to ship along the Milford Sound fiord by boat, rounding off the journey with a marvellous boat trip.
Video
Milford Sound timelapse | 00:45