Description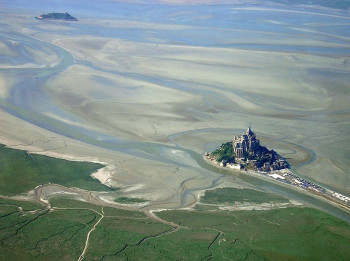 Mont Saint-Michel is a very little community in the area of the Normandy with only about 45 inhabitants. The village is located on an island in the British Channel by the coast of France and was founded as early as 708 A.D.. Mont Saint-Michel is especially notable for the abbey built on the little island which covers most of the land. The community is part of the french Way of St. James and has therefore been a famous pilgrimage for a couple of years now.
Sightseeing
The island used to only be reachable at ebb times, when the water level was low enough. Nevertheless, there was a levee built around the main road towards the island making it accessible more often. If the tide is high enough, however, there might still be a chance that the road will be flooded and not passable.
The main attraction on Mont Saint-Michel continues to be the impressive abbey rising from the island. Meanwhile, there are numerous museums open for visitation on the island these days, for example about the history and origin of the community and about marine habitats around Mont Saint-Michel. There is the possibility of buying a combo-ticket for multiple museums here.
Historical Information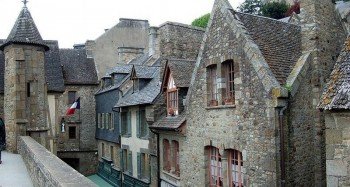 The abbey was founded by monks of Benedictine in 965 and continued to grow as the years past by. During the Hundred Years War the abbey was nearly completely demolished, but still visited by many pilgrims from all over Europe, especially Germany. The monks left the monastery in 1790 and it was converted into a jail to imprison the criminals during the French Revolution.
Then literates discovered and appreciated the flair of the Mont Saint-Michel and wrote many poems and essays about the place that continues to fascinate. The hype by the poets helped the community to a little boom during the 19th century and the place was named a national monument of France. Mont Saint-Michel was again restored in 1872 and put into the look that it still has today. Monks from the Society of Jerusalem returned to the abbey in 1996 and still live here.
How to get there
With public transportation
The island Mont Saint-Michel is easily reachable by train or bus from Rennes.
By car
Getting there by car might even be easier: Take the A11, A13 or the A84 in the direction of Mont Saint-Michel. There is a parking area available only about 5 kilometers away from the village. There are shuttle buses operating regularly from there to the island.
Videos
The Magical Mont-Saint-Michel: an... | 01:46
France, Frankreich - Normandie - Mont...