Description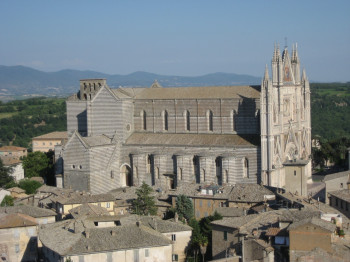 The cathedral
The cathedral of Santa Maria Assunta, as Orvieto Cathedral is officially known as, is the most important building of the Roman Catholic cultural history of Orvieto and a significant edifice of the Italian Gothic epoche. Being reminiscent of the Siena Cathedral, Orvieto Cathedral is particularly known for its former interior frescos.
Architecture
The exterior façade is kept in typical Italian-Gothic black and white stratification, similar to the cathedral in Siena. The apse is ornamented with frescos from the 14th century, depicting several stages of St. Mary's life. The construction work for the Pietà was initiated by Ippolito Scalza in 1570, entirely sculptured from a single block.
San Brizio Chapel
San Brizio Chapel is interesting to look at, especially from an art-historical perspective. From 1499 onwards, the chapel was richly ornamented by Luca Signorelli with a huge fresco cycle representing the topic "History of the Antichrist – The end of the world", explicitly depicting the anatomy of the human body. These frescos are considered as preliminary work of Michelangelo's ceiling frescos in the Sistine chapel.
Historical Information
Construction
It is estimated that the construction process of the cathedral was initiated by Arnolfo di Cambio in 1288, who was also in charge for having built the cathedral and the Palazzo Vecchio in Florence. In 1308, then, the bare brickwork of the cathedral was finished. The façade and the roof were built later, but cannot be dated back accurately.
The miracle of Bolsena
Bolsena is known for a miracle that is said to have occurred near the town in 1263. The cathedral was constructed due to the miracle. Legend has it that during a Holy Mass blood dropped from a host. The Feast of Corpus Christi is celebrated due to this very epiphany.
How to get there
By car
Coming from the direction of the provincial capital Terni, take the E45 towards Rome (Roma)/ Florence (Firenze). In the roundabout, choose the third exit and get on the A1/E35. At the fork, keep to the right and follow the signs leading to E35/ Firenze. Exit at Orvieto and change to the SS205. At the next fork, keep to the right and follow the signs to Orvieto.
You may park your car in the centre of Orvieto. It's best to leave it at a guarded parking. The cathedral is right at the Piazza del Duomo (square) and thus can't be missed.
Videos
Italy, Orvieto Cathedral (Cattedrale... | 05:58
Il Duomo, Orvieto Umbria ITA -...Il Duomo di Orvieto è il simbolo della città, nonché una...
La Cattedrale di Santa Maria Assunta il...La Cattedrale di Santa Maria Assunta, detta anche Duomo...