Description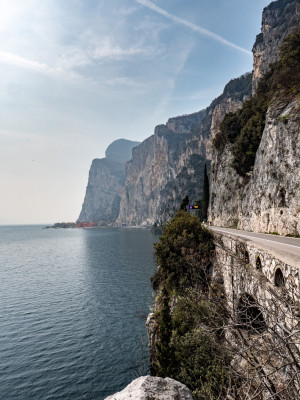 Nature park Alto Garda Bresciano is located at the north-west of Lake Garda, between Salò and Limone. It is said to be one of the most beautiful landscapes in the region. Steep rocky cliffs, wide willows, hiking trails and scenic roads wind through this region above the lake.
Spectacular View
The view from 400 metres up on the edge of the plateau near Tremosine is particularly stunning. Visit one of the catering facilities on a so called "terrazza del brivido" (lit.: terrace of shiver), where you will be served a spectacular view as well as a bit of a thrill along with your cappuccino. Less adrenaline-filled but equally lovely: the view from pilgrimage church Santuario della Madonna di Montecastello in Tignale.
Hiking and Biking at 1,900 metres
Parco Alto Garda Bresciano also holds great opportunities for hiking and biking. Montagnoli trail, for example, is a popular trail going around 50 kilometres from Salò to Limone, at an elevation of up to 600 metres. At 1,900 metres, the so called "Northern Street", going over mountains Tombea, Capione, and Lorina as well as the Nota Pass, is even higher. It goes along a former military route from First and Second World War.
Visitor Centre in Tignale
A small museum in Tignale gives information about the unique mountain range's formation history as well as the inhabitants' life there over the centuries.
How to get there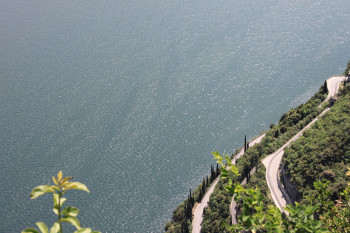 Parco Alto Garda Bresciano extends from Limone sul Garda until Salò at Lake Garda's west side. SS45bis goes directly along the lake, and passes all the lookouts and sites of Alto Garda Bresciano.
Videos
Cima Comer - Parco dell'Alto... | 02:51
Parco Alto Garda Bresciano.aviLa salita per Tremosine dall'ex porto. Un trekking...