Description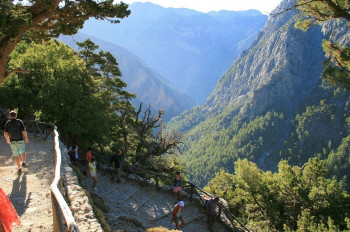 Geography
The Samaria Gorge National Park is a park that surrounds the Samaria Gorge. The gorge is one of largest in Europe with a length of 13 km (8 mi). It leads from the central part of Crete to the Libyan Sea.
Visit the Park
The tour has meanwhile been enlarged and improved for hikers. At frequent intervals, one finds both sanitary facilities and litter bins along the way. In addition, one can refresh oneself at springs along the way with fresh and clear water.
The way through the gorge is challenging. One needs to be fit in order to be able to manage the hike. The path leads time and again steeply downhill and is partially uneven. The hike will approximately take up to 6 hours including little breaks in between. Taking the challenge to hike through the gorge will be rewarded with breath-taking nature and a magnificent view.
The park has nowadays become very touristy. Up to 2000 persons hike here daily. Try to start your hiking tour early in the morning. This way you avoid encountering too many people on the way and experience the regional flora and fauna. Many of the wild animals here are among protected groups of species.
How to get there
By public transport
You can easily reach the national park during its opening hours. Several times a day there will be buses (KTEL) operating towards Omalos, one of the entrances of the park. The other end of the park can be left by using a ferry and then carrying on by bus.
If you feel it's getting too much organising everything yourself, then you have the chance to participate in one of the many organised guided tours leading through the national park.
Video
Samaria Gorge - A trip through the... | 02:42