Description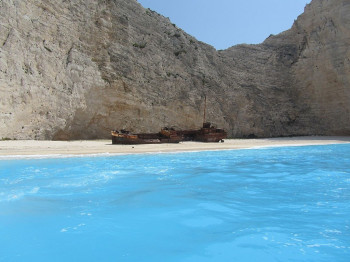 The shipwreck of Zakynthos is probably the most famous postcard motif in Greece. The wreck was stranded in a small bay of Zakynthos in 1980 and has been washed by sand ever since and looks as if it would emerge from the sand. The ship, a smuggler ship loaded with tobacco and alcohol, met a coastal patrol and the crew panicked and set fire to their ship. Thereupon it stranded at the beach, where it still is today.
There are many conspiracy theories that the ship is much older and contains a treasure around the wreck.
Viewing
The bay itself is surrounded by 200m high rock walls, and therefore only accessible by sea and invites you to swim. However, it is not recommended to visit the bay in the high season at noon, as the beach is very crowded. You can also admire the wreck from a viewing platform on the cliffs around the bay.
The Blue Grottoes are very close by and you can also take a boat trip to them. If you are going to the bay by boat, it is best to prepare your own food and drink in advance, as the prices in the bay are very high.
How to get there
By boat:
The Navagio beach, as the bay is actually called, is located in the northwest of the island Zakynthos. The bay can only be reached by boat, but a lot of ships go to the beach every day. They start directly from the port in Zakynthos-City.
Video
SHIPWRECK BEACH WITH 4K DRONE -... | 03:34