Description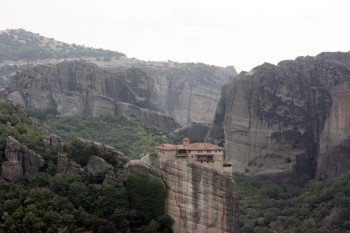 Situation
Meteora is an area in the region of Thessaly in central Greece. Several monasteries are located here, many of them built high up in the mountains. Back in time, these monasteries were only accessible by ladders. When there is mist in the mountains, it seems as if the monasteries are floating on the rocks. This is why they are sometimes referred to as "the flying monasteries".
Visit the monasteries
All monasteries are closed one day a week, but are luckily well-organised so that at least one monastery is open daily. The opening times might change from time to time, but in the morning they are usually always open. If you want to be on the safe side, you can get a list with all opening times of the monasteries at the tourist information. When visiting, please make sure you wear appropriate clothing. Men in shorts and women in short skirts or sleeveless or skimpy tops will be denied access to the monasteries.
All monasteries charge a small admission fee.
You can either book a guided tour leading through all accessible monasteries or you can explore each and every monastery yourself.
This particular mountain chain has come to fame as parts of a James Bond film were shot here.
Historical Information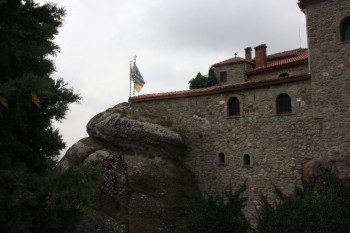 In the 11th century, eremites were settling here in the loneliness of the mountains. They were then living in the rock shelters, many of which can still be seen today. In the course of time, especially under the rule of the Ottomans when practising the Christian-orthodox religion was forbidden, many believers came up here to hold their service in secret. Little chapels were eventually built on the places of worship. These were extended to monasteries over the years. Nowadays, these monasteries are popular among tourists and are also a listed UNESCO world heritage site. There are only six monasteries accessible to the public. And these, on top, are still inhabited and fund themselves through tourism. There are more monasteries on-site, but cannot be visited. Most of them are only reachable for experienced climbers.
How to get there
By car
If you decide to visit the monasteries on your own, a car is highly recommendable as the monasteries are widely spaced.
All guided tours start in the town of Kalabaka, which lies at the foot of the Meteora mountain range.
Videos
The Meteora Monasteries , Greece | 05:38
Meteora - Greece Sacred Mountains - Travel...subscription_center