Description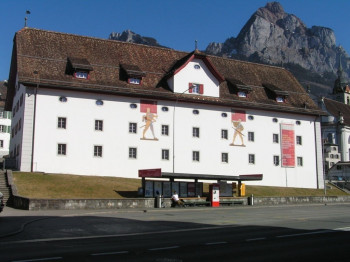 The Forum of Swiss History in Schwyz is one of the most important museums in the Alpine region and is the central Swiss seat of the Swiss National Museum. The quadrilingual conception of the exhibitions is intended to make the exciting history of the Alpine country accessible to as large a circle of visitors as possible.
Permanent exhibition
The permanent exhibition focuses on the origins of Switzerland in the 13th and 14th centuries. The political and economic history of the founding of the old Swiss Confederation is described in more detail.
Thanks to interesting exhibits, multimedia stations and virtual guides, the three central themes of the permanent exhibition are presented to visitors in an exciting, interactive
Manner. In addition to the conditions under which the Swiss Confederation came into being, the focus is on trade and mobility in the Alpine region and the structure of power and order in Central Europe.
After the encounter with a monk dictating in the scriptorium, a knight on horseback and a hemmer walking along the Devil's Bridge, one feels taken back to medieval times long past. Children and adults alike will also be interested in the adventure course on the creation of Switzerland.
The museum's offer is rounded off by a shop and a cafeteria where you can round off your visit to the museum with a delicious piece of cake.
Temporary exhibitions & events
The basement of the museum is reserved for regularly changing exhibitions on current social topics. From 12 April 2014 to 7 September 2014, the exhibition "Am I beautiful?
This provides interesting insights into the power and perception of beauty not only in humans, but also in the animal and plant kingdoms. Beauty formulas, ideals and less common sides of beauty are comprehensively illuminated here.
Historical Information
The baroque armoury and granary built in 1711, where the museum is located, impresses from the outside with its beautiful façade, from the inside with its modern architecture. Initially used as a granary, the building was soon used as a store for defence material. In 1995, the establishment of the Forum of Swiss History here finally gave rise to a cultural and historical meeting place and experience.
How to get there
By car
Coming from Zurich, take the A4 in the direction of Küssnacht/Brunnen. Take the Schwyz exit and follow the road to Schwyz. The museum is located in the centre of the village.
In the immediate vicinity there are sufficient parking facilities (Parkhaus Hofmatt).
By public transport
By train you can reach the Schwyz SBB station. Then take the bus in the direction of Schwyz Post and get off at the Schwyz Post stop. The Forum of Swiss History Schwyz is located directly behind the bus stop.