Description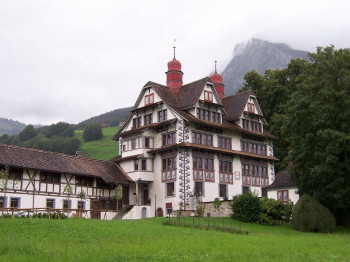 The Ital Reding-Hofstatt
One of the most precious buildings in the Canton of Schwyz is the manor Ital Reding-Hofstatt. It is also one of the museums that can be visited with the "Schwyzer Museumspass".
In total, there are three buildings the Ital Reding-Hofstatt consists of: The Bethlehem House that was built in 1287, the mansion from the 17th century, and an old barn which is nowadays used as a cantonal library.
Contemporary Witnesses Exhibition
In the converted stables of Ital Reding-Hofstatt, a very interesting exhibition about contemporary witnesses, focusing on the 20th century and persons with close ties to Ital Reding-Hofstatt, can be visited during the opening hours of the museum.
Historical Information
The mansion
The mansion was built on behalf of the provincial governor Ital Reding in 1609. It is characterised by its artfully painted windows and the saddleback roof with dormers. Harmonically blending in Gothic, Renaissance and several other architectural elements, makes the Ital Reding-Hofstatt one of the most beautiful mansions in Switzerland. In front of the main building one finds a little baroque garden with two shade huts on each side.
You will find the rooms on the first floor splendidly and meticulously ornamented with inlaid work and wood panelling. On ground floor, the garden hall and the vaulted hall are worth a visit too.
Bethlehem House
The Bethlehem House was built in the period during which the Swiss Confederation was founded. The brickwork base of the wooden building contains a hall full of frescos from the 16th century.
How to get there
By car
Coming from Zurich, take the A4 in the direction of Küssnacht/ Brunnen, exit at Schwyz and follow the road until you are in Schwyz.